This Hot List of Cool Coffee Houses are our favorite places to "do coffee like a local".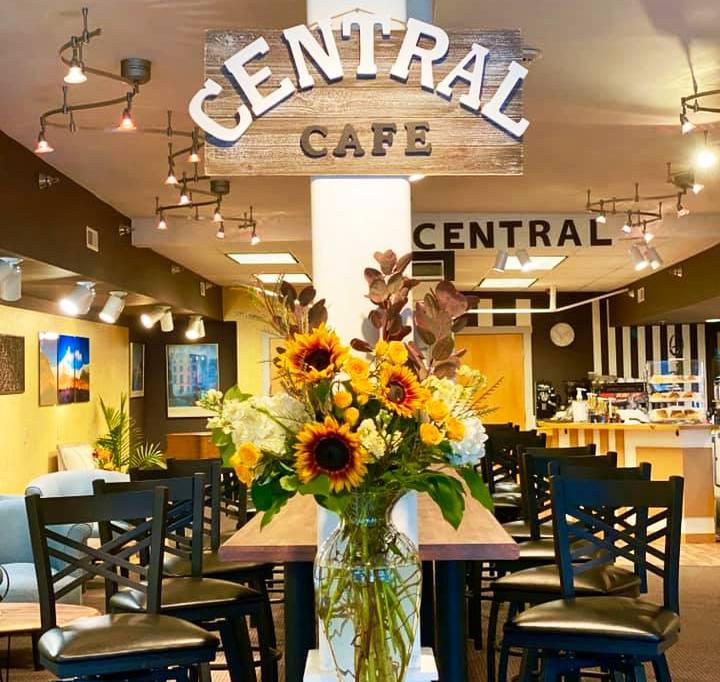 While traveling and exploring new places, the last thing you should do is drink a generic cup of java.  There is always a typical Dunkin' or Starbucks at every turn.  But you can do that at home (yawn), or even at an airport.
When you're away, check out the local coffee spots. Every coffee house has its own personality — a unique vibe that offers real local flavor (pun intended). Doing coffee like a local allows you to absorb the essence of the area and its people. Whether you tuck away into a booth or saddle up to the counter, you will easily blend right in.
Remember, coffee shops are like community common spaces. They offer a wonderful opportunity to chat with local folks, to ask about cool area restaurants, local hiking trails, and sights to see,  or to discuss the local buzz.
No matter if you're into frothy fancy-schmancy coffees or a simple cuppa, you'll find it here.  And it will be extra delicious because you added in the rich local flavor.
There are countless independently owned charming coffee houses in North Country and Northeast Kingdom. When visiting Rabbit Hill Inn, here are our some of our favorite nearby gems for a solid coffee fix and a little local mingling if desired:
Inkwell Coffee & Tea House (fantastic coffee & tea menu & great lunch spot)
You'll find them at  24 Beacon Street, NH (just further down the road from Mill St, on the Rail Trail). In fine weather, enjoy their relaxing outside seating.
*** A FAV – creative specialty coffees, lunch menu, Gluten-free / vegan options.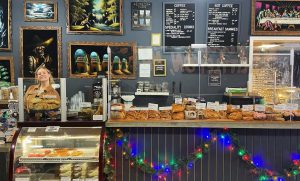 Crumb Bum Bakery (GREAT bakery & proper coffee & tea offerings)
97 Main Street, Littleton, NH
Check online for hours.
*** Cool Main Street vibe with nod to the nostalgic. Yum small batch creative pastries you can't say no to. Also a nice lunch menu.  
Jack and Fin's (A fun fun place with fun food)
42 Main Street, Littleton, NH
Hours: 11:00 am – 3:00 pm (closed Sundays)
*** A FAV! Don't pass up a visit to this great spot. Good coffee, GREAT and unique lunch menu, and INCREDIBLE, to-die-for cupcakes.
The Coffee Pot (a real neighborhood lunch spot)
30 Main Street, Littleton NH
Hours: Mon – Fri 6:30 am – 4 pm. Sat 6:30 am – 2 pm
*** Definitely a local hot spot. Grab a seat at the counter and enjoy fun chats with whoever rolls in.  Full menu – save room for pie!
Littleton Diner (A classic New England diner)
145 Main Street, Littleton, NH
Hours: Daily 7 am – 8 pm
*** A well-known fav of Yankee Magazine. Large menu of New England diner fare. Choose a booth and watch Main Street go by from the window. Again, save room for pie and a solid cup of Joe.
Central Cafe (Proper coffee & tea house w/ great lunch menu).
418 Railroad Street,  St. Johnsbury,VT
Hours: Daily 8:00 am – 3:00 pm.
***  A FAV! Upscale & comfortable coffee shop offering delicious coffee, late, cappuccino, espresso, sweet treats, and EXCELLENT lunch menu.  
Boule Bakery (Proper coffee menu, French pastries, and AMAZING artisan breads).
462 Railroad Street,  St. Johnsbury, VT
Hours: 7:00 am – 5:00 pm. Closed Mon / Tues
***  A FAV! Nice coffee offerings and very delicious pastries. Be sure to take a loaf of specialty bread to enjoy back home.  
Cosmic Cup Cafe (Nice breakfast, lunch & coffee spot)
379 Railroad St, St.Johnsbury VT
Hours: Daily 7 am – 4 pm. Closed Sun/Wed
Cafe Lotti (proper coffee house & lunch spot)
603 Route 114, Burke, VT
Hours: Mon – Thur 7 am – 4:00 pm. Fri/Sat/Sun 7 am – 2 pm
*** Comfy coffee house to relax in. Enjoy a hearty sandwich for lunch & chat up with the neighbors. 
Maia Papaya (full coffee menu & lunch spot )
2161 Main Street, Bethlehem, NH
Hours: Mon – Thurs 7 am – 3 pm, Fri/Sat/Sun 7 am – 5 pm
*** Cool local vibe. Lunch menu is dedicated to vegetarian & vegan offerings.
Vermont Artisan Coffee & Tea Co (Incredible coffee roastery & Euro-style coffee bar)
11 Cabin Lane, Waterbury, VT
*** Ultimate coffee experience. Check websites for current hours.  FYI – Ben & Jerry's Ice Cream Factory is on the way. Thought you should know!  
Of course, there's no place like home when it comes to a relaxing cup of coffee. When you return to the inn after a fun-filled day, there is always complimentary coffee & tea waiting for you.
And DON'T miss the amazing and heavenly pastries (also complimentary) served daily between 2 – 5 pm.  Cozy up to a cup in the common rooms or in your guestroom. Sip away and relax.