Don't lose this recipe! This EASY all-purpose condiment recipe will become your favorite go-to sauce to add a zippy punch to a wide variety of dishes and snack plates.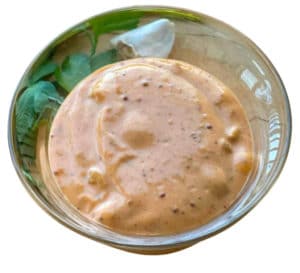 Served cold, this delicious remoulade sauce recipe is a perfect match with seafood (especially fried fish, shellfish, po'boys, and shrimp cocktail), cold meats, vegetables, and fried foods (think French fries or fried pickles). Add it to your hamburger or reuben sandwich. Use it as a dipping sauce. It's a great dip for those salty chips too! The options are endless.
Rabbit Hill Inn Remoulade Sauce Recipe
Chef side note: This is a very adaptable recipe. Feel free to add more or less of any ingredient, based on your personal taste. To save time here, we are suggesting store bought mayonnaise. In the Rabbit Hill Inn kitchen, chef makes his mayo from scratch. 
Ingredients:
2 cups good quality mayonnaise
2 Tbsp fresh lemon juice
1 Tbsp Worcestershire sauce
2 Tbsp mustard (Dijon works well, but any style will do)
2 Tbsp hot sauce
3 garlic cloves (microplaned or finely minced)
1 Tbsp capers, chopped
2 Tbsp dill pickles, minced
1 shallot, minced
2 tsp smoked paprika
3 Tbsp chopped fresh herbs (such as parsley, tarragon, chive)
pinch of cayenne pepper
pinch white sugar
salt, to taste
Method:  In a large mixing bowl, simply combine all ingredients and mix well. Adjust taste to your liking. Store in a tight container and keep refrigerated. This sauce will last about 7 days. 
BONUS: Check out our online recipe files for more terrific recipes from the Rabbit Hill Inn kitchen. Use the search box for specific interests.