Maple Dream Cookie Recipe from Rabbit Hill Inn. This is real deal maple goodness!
If you're a maple fan – this maple cookie recipe will soon be your favorite! These Maple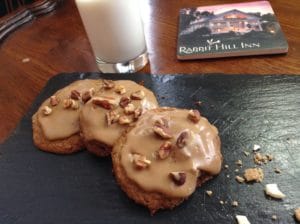 Dream cookies are soft, moist, and really addictive. Serving this cookie with ice cream is a terrific idea!
Maple Dream Cookie Recipe 
Preheat oven to 350 degrees / Recipe yields approx 48 cookies
Cookie Batter Ingredients:  Have parchment paper on hand
1/2 cup unsalted butter, softened
1 cup shortening
2 cups light brown sugar, packed
2 eggs
1 tsp pure vanilla extract
1 tsp maple syrup (or extract if necessary)
3 cups unbleached flour
2 tsp baking soda
1/2 cup chopped pecans
1 cup white chocolate morsels
Step one:
In large bowl, cream together butter and shortening. Add brown sugar and mix until well combined.  Beat in eggs one at a time.  Stir in the vanilla and maple syrup. Set aside.
Step two:
In a medium bowl, combine flour and baking soda. Thoroughly blend this flour mixture with the creamed mixture.  Add the pecans and white chocolate morsels. Mix well.
Step three:
Drop by rounded teaspoons onto ungreased or parchment-lined baking sheet. Bake at 350 degrees for 8 minutes or until cookie edges begin to golden in color.  Remove pan from oven and let cool for three minutes. Then, transfer cookies to a wire rack to cool fully.
Frosting Ingredients:  Make ahead and set aside
4 cups confectioners sugar
1/4 cup unsalted butter, softened
6 – 8 Tbsp milk
1 tsp maple syrup (or extract)
1 cup pecan halves
In medium bowl, combine confectioners sugar and butter. Mix well.
Stir in maple syrup and milk until you achieve a thick frosting consistency.
Frost each cookie and place a pecan half on top.
BONUS: Check out our online recipe files for more terrific recipes from the Rabbit Hill Inn kitchen. Use the search box for specific interests.