Chocolate Zucchini Bread Recipe from Rabbit Hill Inn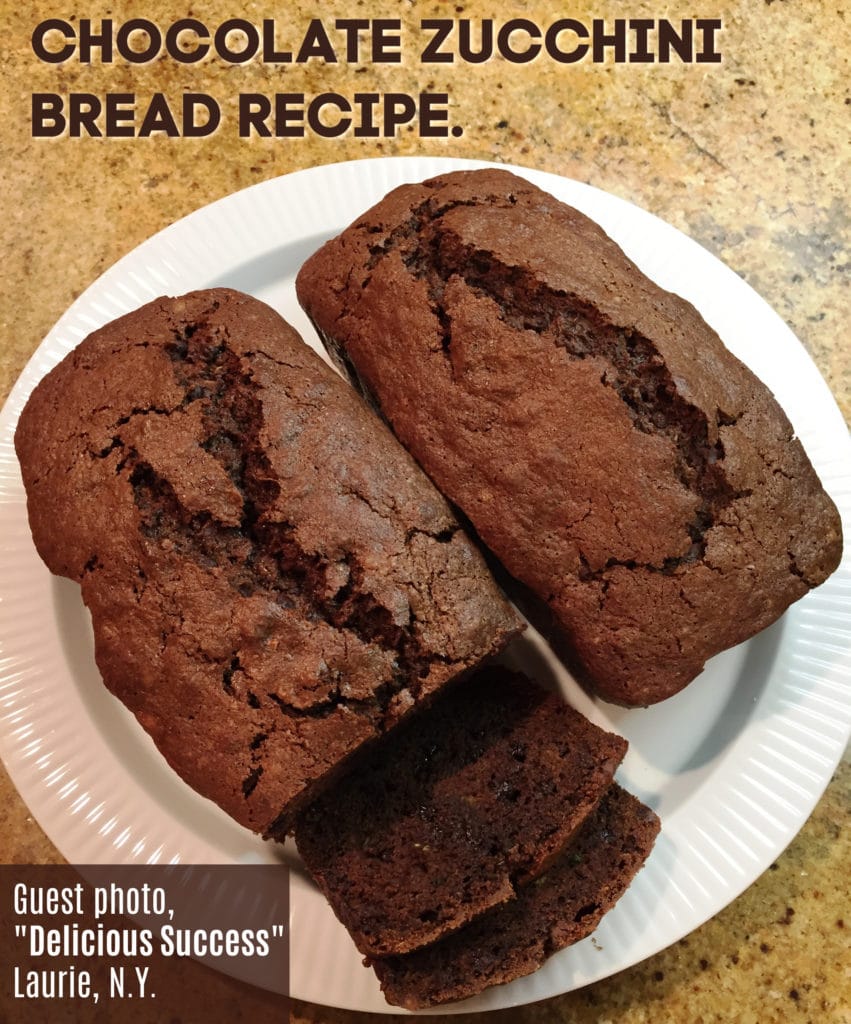 Homemade breakfast breads and snack breads are a staple. You'll be making this moist, delicious, chocolate zucchini recipe quite often. It's THAT good!  Pro Tip: Feel free to jazz it up! Add nuts, raisins, chopped dates, blueberries, cranberries, anything goes with this versatile recipe.
Luckily, this chocolate snack bread freezes very well. This way, you'll always have one on hand. Your friends will love you forever if you bring one over each time you visit.
Preparation notes:
Recipe yields 2 8×4″ loaves.
Prepare loaf pans: oil all sides
Preheat oven to 325 degrees.
Ingredients for Chocolate Zucchini Bread:
2 cups sugar
1 cup oil
3 large eggs
2 cups grated zucchini (uncooked)
1 tsp vanilla
3 cups all purpose flour
6 TBSP cocoa
1 tsp baking soda
1/4 tsp baking powder
1 tsp cinnamon
1 cup semi-sweet chocolate chips
Method:    
In large bowl, mix sugar, oil, and eggs. Mix well.
Add vanilla and zucchini. Mix well again.
In separate bowl, sift together – flour, cocoa, baking powder, baking soda, and cinnamon
Add dry mixture to the wet mixture. Then add chocolate chips. Blend well.
Fill evenly into 2 loaf pans. Bake at 325 degrees for approx 30 minutes, until cake tester comes out clean
Cool on baking rack. Snack away!!

BONUS: Check out our online recipe files for more terrific recipes from the Rabbit Hill Inn kitchen. Use the search box for specific interests.