Here's our short list of favorite local swimming holes Near Rabbit Hill Inn
Swimming holes are an old fashioned summer tradition and a great way to travel like a local. We have so many great swimming holes nearby and everyone wants to keep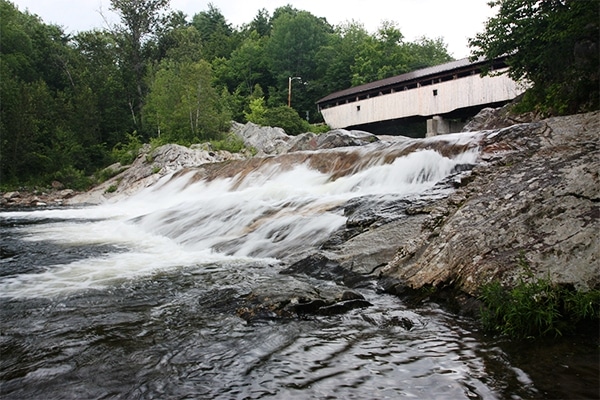 them secret. But we are sharing the best swimming holes with you. As you plan your summer getaway, schedule a day to hang out at one of these cool Vermont or White Mountain New Hampshire swimming holes.
Lucky for us, our location borders Vermont and the White Mountains of New Hampshire. This expands our neighborhood and allows you to easily enjoy all the summer fun activities in both states.
TIPS TO KNOW BEFORE YOU GO – be smart & be safe!
Wear water shoes or sneakers for foot protection. You can get cut on rocks or broken glass
Don't go alone, or at least, tell someone where you are going.
Before jumping into water, be sure that it's deep enough! Watch the locals and follow their lead. For the most part, they are familiar with the safe areas for jumping.
Here are our five nearby Vermont & New Hampshire Swimming Holes:
Adams Hole – St. Johnsbury / Barnet Vermont (just 15 minutes from the inn)
Details: Neat little swimming hole on Joe's Brook between Danville and East Barnet. This one wins for being the closest. 
Directions: From St. Johnsbury, go south on Rt 5. Turn right (west) on Joe's Road – about 2 miles before Barnet. Take Joe's Brook Road toward Danville. When the road turns to gravel, proceed about 1/2 mile further.  You'll see a pull off on the right. The swimming hole is close by in Joe's Brook.  Link to Google Map
Lonesome Lake – Carroll / Franconia / Lincoln NH  (just 25 mins from the inn)  
Details: TOP CHOICE! A stunning mountain top swimming hole. Amazing 12 acre water hole approximately 2700 feet above Franconia Notch a trail up to Cannon Mountain. Noted as one of the prettiest pools in New Hampshire (if not the country). It's well worth the 1.6 mile hike to this breathtaking remote swimming hole surrounded by mountains. 
Directions: I-93 South to Franconia Notch State Park. Park at Lafayette Campground parking. Trail starts at the left side of the parking lot. Follow the yellow blazed Lonesome Lake Trail. After a mile, High Cannon Trail splits to the right. Stay on Lonesome Lake Trail, as it becomes steep. When you get to the top, take the Cascade Brook Trail along the south side of the lake.
Swiftwater Falls – Bath / Woodsville NH  (just 25 mins from the inn)  
Details: Great choice! Beautiful falls, great swimming hole, AND a cool historic covered bridge. Large rocks to lounge on. The locals call it the "Eddie".
Directions: Follow RT 302 east. Cross the Connecticut River and continue into the small village of Woodsville where RT 302 is joined by RT 10. Continue along RT 302/10 for approximately 2.5 miles to the intersection with RT 112. Take a right onto RT 112 and follow it for approximately 2 miles. You will see the covered bridge on your left.
Swift River – Conway NH  (just 1 hour the inn)  
Details: Easy Access. Don't let the name scare you. The Swift River is an extremely popular spot with multiple swimming holes with easy access off the Kancamagus Highway. Many smooth rocks. Secret tip: There are several other less popular swimming hole nearby. Check out "Big Eddy" – a smaller swimming hole up along the Swift River, parallel the Kancamagus Highway in the White mountains. This pool is approx. 1/2 mile west of the Loon Mountain Billboard (just about 2 miles east of Lower Falls). Park your car on the side of the road where you see a wooden retainer wall (left side) and the guardrail (north side). Climb over the guardrail to a rock that is over the Swift River and you're there.
Directions: Rt 12, located west of Conway just off the world famous Kancamagus Scenic Byway.
Eastman Brook – North Woodstock NH  (just 40 mins the inn)  
Details: A somewhat steep path leads you to stunning crystal clear waters. Shallow areas and deep water to 7 ft. Give the rope swing whirl!
Directions: I93 South to Tripoli Rd in Woodstock NH. Exit 31, follow Rt 175 S to Thornton Gore Rd.
We have swimming towels ready for you. And to make your day even more awesome – ask for a delicious picnic lunch.
As we mentioned, there are many swimming holes to discover in Vermont and New Hampshire. Check out this full list of swimming holes in nearby White Mountains of New Hampshire & full list & map of swimming holes in Vermont