This delicious Sweet Pepper Relish recipe is so good, you'll be tempted to eat it alone by the spoonful.
It is a perfect addition to any dish. We frequently serve it with breakfast quiche. Imagine it with a pork, chicken, or fish  dish, or any entrée. Remember to enjoy it with cheese and crackers. It certainly will become one of your best go-to recipes. And for those seeking terrific gluten free, vegetarian, and vegan recipes, this is a winner!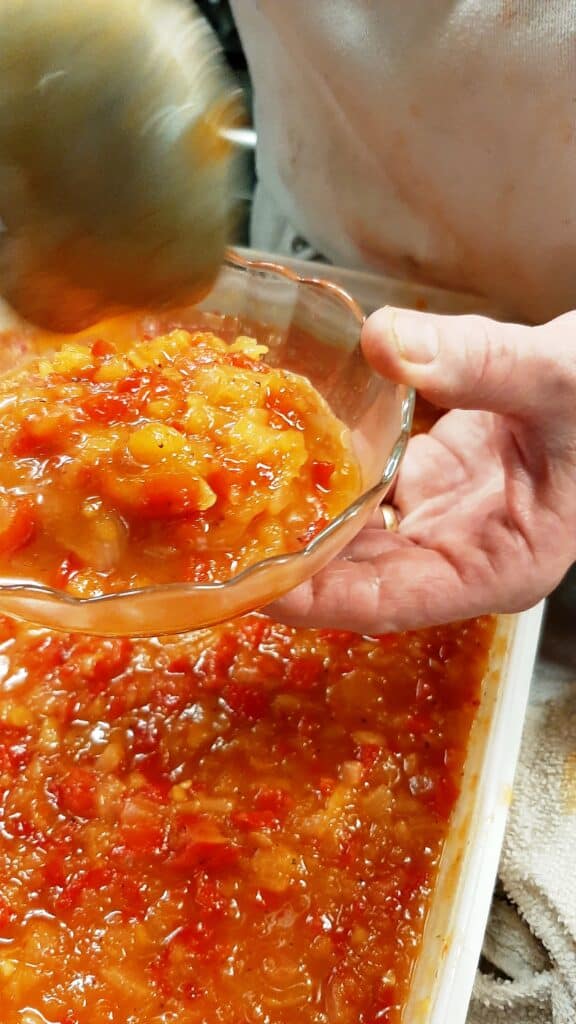 Recipe yields: 2 quarts
Ingredients:
1/2 cup olive oil
2 lbs bell peppers, chopped (we use red & yellow bell peppers)
1 cup golden raisins
1 tsp ground ginger
1/2 tsp Allspice
1/8 tsp fresh ground pepper
2 2/3 cups finely chopped onion
1½ cup red wine vinegar
1½ cup sugar
1/2 tsp salt
1 tsp garlic, finely chopped
Method:
Sauté onions & peppers in olive oil
Add all other ingredients
Cook until thick – Approx 1 to 1.5 hours. Stirring frequently.
transfer to a large shallow baking dish for cooling.
Pro Tip: Due to the sugar content, this delicious relish lasts a long time. There are several storage options: (1) Store in a tight container and keep in fridge (for quite a long time), (2) You can freeze it, and (3) If you are a canner, this would be a perfect canned relish (a great gift idea).
BONUS: Check out our online recipe files for more terrific recipes from the Rabbit Hill Inn kitchen. Use the search box for specific interests.