Rabbit Hill Inn's Honey Sriracha Cornbread recipe is over the top!
Expect applause every time you serve this incredibly delicious homemade corn bread. We all know, cornbread is awesome. But when you jazz up your cornbread with honey and Sriracha, the goodness level goes off the charts.
Rabbit Hill Inn guests enjoy this honey Sriracha cornbread with various breakfast dishes. You certainly will be adding this corn bread to so many dishes, soups, chili & stews – the options are endless. It's so good, you'll be enjoying it with everything you can think of, or simply all by itself. You may want to make double batches (and hide some for yourself).
This recipe yields one 12 x 18 sheet pan  or one 13 x 9 pan for thicker cornbread 
Ingredients:
2 cups corn meal
2 3/4 cups flour (all purpose)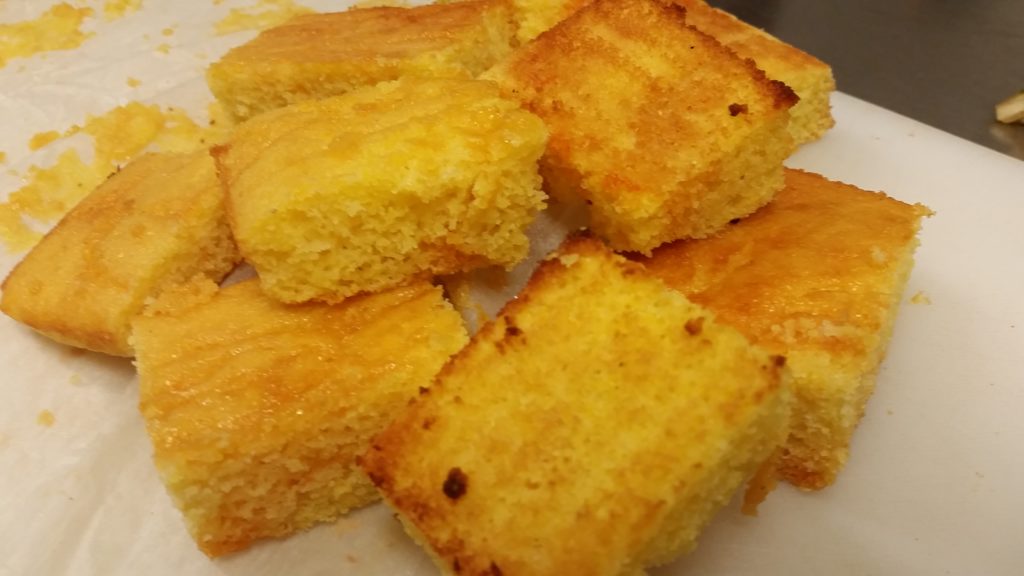 1 tsp salt
1 cup sugar
2 Tbsp baking powder
pinch of baking soda
1 cup whole eggs
6 oz oil
1 tsp vanilla
2 cups milk
1/2 cup honey
1/2 cup Sriracha Hot Sauce
Method:
Prep notes: Preheat oven to 350 degrees. Prep your baking pan with cooking spray.
In a small bowl, mix honey and Sriracha Sauce. Set aside.
In a large mixing bowl, place first 6 dry ingredients. Mix & make a well in the center.
In separate mixing bowl, place eggs,oil,vanilla, and milk. Mix well.
Add wet mixture into the well on the dry ingredients. Mix until smooth.
Pour batter into sheet pan that has been sprayed with cooking spray.
Drizzle honey & Sriracha mixture evenly over the top of the batter
Bake until golden brown and top springs back.  For 12 x 18 sheet pan – approx 20 minutes. For 13 x 9 pan – approx 30 minutes.
BONUS: Check out our online recipe files for more terrific recipes from the Rabbit Hill Inn kitchen. Use the search box for specific interests.