This delicious Sweet Potato Coconut Curry soup hits so many flavorful notes.
It certainly will become one of your best go-to soup recipes. And for those seeking terrific gluten free and vegetarian recipes, this is a winner!
Prep note: Have a blender & fine mesh strainer on hand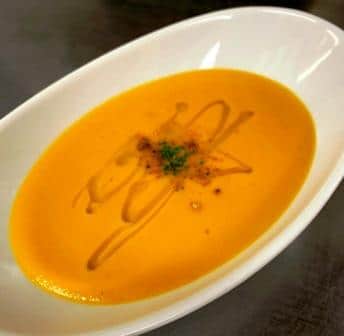 Recipe yields: 6 hearty servings. This soup freezes well.
Ingredients:
2 large sweet potatoes (about 2 lbs)
4 TBSP unsalted butter (1/2 stick)
2 large shallots, chopped
2 cups coconut milk
3 1/2 cups of water
4 tsp kosher salt
1½ tsp fresh lime juice, plus more to taste
1 TBSP Vadouvan curry powder
2 tsp finely chopped fresh chives
Nice high quality olive oil (such as olio verde extra virgin)
Method:
Peel the sweet potato and cut into 1″ dice. Set aside.
In a 3-4 quart sauce pan, melt butter over medium to low heat
Add shallots to butter and cook, stirring occasionally until the shallots are soft but not colored, about 5 minutes.
Add coconut milk, 3 1/2 cups of water, 4 tsp of salt, and curry powder. Stir.
Add the sweet potato , then increase the heat to a boil. Lower heat and simmer until the sweet potato are cooked thoroughly (should be able to pierce with a knife).
Puree the soup in batches in the blender. Pass it through a fine mesh strainer, pressing the solids with a ladle, into a bowl or clean sauce pan. Discard the solids.
Gently reheat the soup, Stir in the lime. Season to taste with additional salt, curry powder, and more lime juice, as desired.
Divide soup among 6 serving vessels. Top with chives, a pinch of curry, and a drizzle of olive oil.
And remember, always taste, season, and taste again.
BONUS: Check out our online recipe files for more terrific recipes from the Rabbit Hill Inn kitchen. Use the search box for specific interests.