Ricotta Coffee Mousse Recipe From Rabbit Hill Inn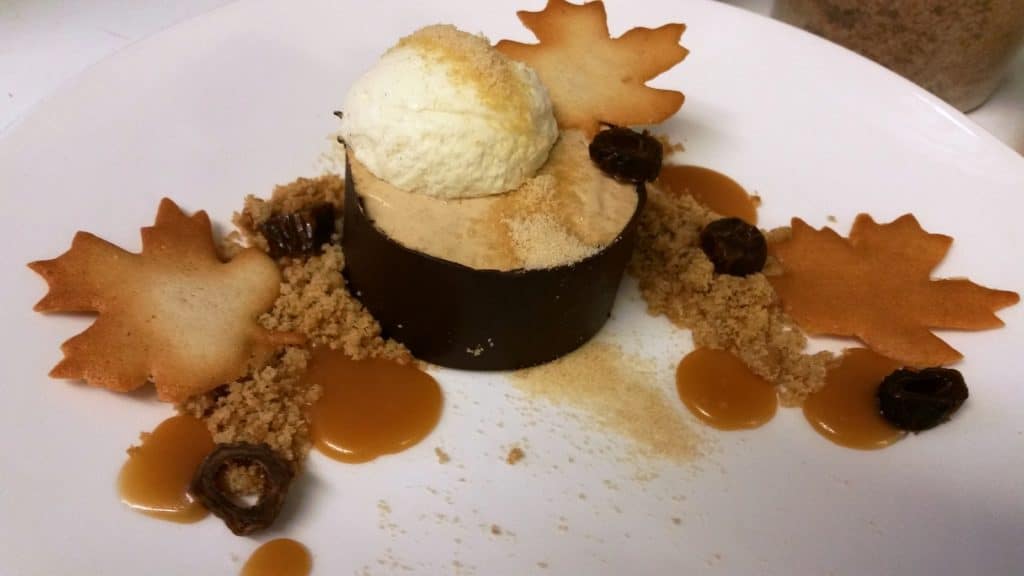 Coffee lovers will go crazy over this heavenly smooth and delicious coffee mousse dessert. Only 6 ingredients renders this coffee goodness.
Give it your own signature style. You can jazz this up in many ways. Perhaps drizzled flavored syrups, ice creams, crumbles, fruits, or cookies on the side. You can even serve this frozen if you wish.
We love to add maple features to this coffee mousse dessert. Here, we serve it with vanilla panna cotta, salted maple caramel, maple sugar crumble, and sliced dates.
This gluten free mousse dessert recipe will take your recipe repertoire to a whole new level. Prepare for applause when you serve this to your lucky family and friends.  This easy make ahead dessert recipe will blow them away.
Preparation Note:
You will need a blender, a mixer (a hand mixer will do), and individual vessels (cups, mugs, small bowls, whatever you prefer). Number of servings depends on the size of your vessel.
Ingredients for the Ricotta Coffee Mousse:
2 cups ricotta
1/3 cup sugar
1 cup heavy cream
2 Tbsp instant espresso powder
4 Tbsp hot coffee
1 Tbsp powdered gelatin (bloomed in 2 Tbsp of water)
Method for Ricotta Coffee Mousse:

Puree ricotta in blender until smooth. Transfer into large bowl and set aside.
In separate bowl, whip heavy cream and sugar to a soft peak.
In a separate bowl, mix espresso powder with hot coffee. Than add gelatin mixture. Stir until gelatin dissolves.
Add coffee mixture into ricotta. Stir well. Then fold in whipped cream in 3 stages.
Spoon gently into your preferred vessels. Chill until set.
Sprinkle top with shaved chocolate before serving.

BONUS: Check out our online recipe files for more terrific recipes from the Rabbit Hill Inn kitchen. Use the search box for specific interests.