Classic Hermits cookie recipe from Rabbit Hill Inn. This is old fashioned New England cookie goodness at its best!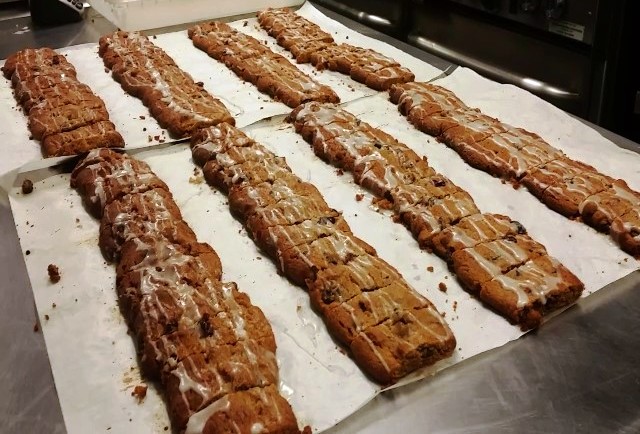 Hermit bar cookies are a classic year round treat. This easy hermit cookie recipe will become one of your frequent go-to cookie recipes. The best part is that they are long lasting in an air tight container. And they freeze well too!  You may want to put this delicious molasses spice cookie recipe in your coveted Christmas cookie repertoire.
Feel free to change it up from batch to batch. For extra zip – consider adding ground or small crystallized ginger pieces. Also, a drizzle of simple icing would be a great addition.
Hermits Spice Bar Cookie Recipe 
To begin: Preheat oven to 350 degrees. Cover your cookie sheet with parchment paper.
Cookie Batter Ingredients:
1 cup sugar
3/4 cup shortening
1/4 cup molasses
1 egg
2 cups flour
1/2 tsp baking soda
1/2 tsp salt
1 tsp cinnamon
1/4 tsp nutmeg
1 tsp ground clove
3/4 cup raisins (or any preferred dried fruit) cup white chocolate morsels
Step one:
In large bowl, cream together shortening and sugar until light and fluffy. scrape sides of bowl.
Step two:
Incorporate egg and molasses to mixture.
Step three:
In separate bowl, sift together the flour, baking soda, salt, cinnamon, nutmeg, and clove. Then mix these dry ingredients into the cream mixture. Add raisins.
Step four:
Chill for 1 hour.
Step five: Prepare for baking – 2 options:
You can make one large cookie sheet (to be cut into bars bars) or
You can roll dough into logs on a floured surface  and flatten with fingers on sheet pan (to be sliced when warm).
Step six:
Brush tops with milk.
Bake at 350. Bars should take about 30 minutes. Rolled and flattened logs should take about 12- 15 minutes or until golden brown. Cookies should be sliced to 1 inch wide while still warm.
BONUS: Check out our online recipe files for more terrific recipes from the Rabbit Hill Inn kitchen. Use the search box for specific interests.