Rabbit Hill Inn has received TWO honors from TripAdvisor!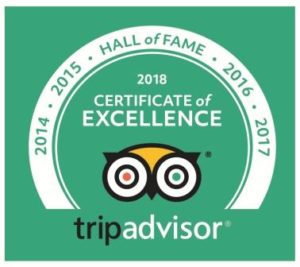 For the 8th consecutive year, Rabbit Hill Inn has been awarded the TripAdvisor Certificate of Excellence.  This achievement is based on the quality, quantity, and recency of travelers' reviews on TripAdvisor over the past year.  And then, to make it even more exciting, Rabbit Hill Inn was inducted into the TripAdvisor Hall of Fame for the 2nd time!  The 'Hall of Fame" was created to honor those businesses that have earned a Certificate of Excellence for five consecutive years.
About these awards — Since 2011, the Certificate of Excellence honors hospitality businesses that deliver consistently great service across the world. This designation is presented only to approximately 10 percent of total businesses on TripAdvisor that have consistently achieved great reviews over the past year. And only a small fraction of those go on the 'Hall of Fame.'
Needless to say, we are thrilled to be awarded this honor and because it is basedon guest reviews,  it is extremely special. This award is a credit to our amazing and caring staff who are truly dedicated to providing an outstanding experience to every guest every day. Our gratitude also goes out to our wonderful guests who share their Rabbit Hill Inn experience with the worldwide TripAdvisor readership.
Our heartfelt thanks to you all.