Vermont Lamoille Valley Rail Trail – St. Johnsbury to Danville Vermont
Go where the locals go! Vermont's Lamoille Valley Rail Trail is a fantastic 4-season multi-use recreational trail. Rabbit Hill Inn is close to this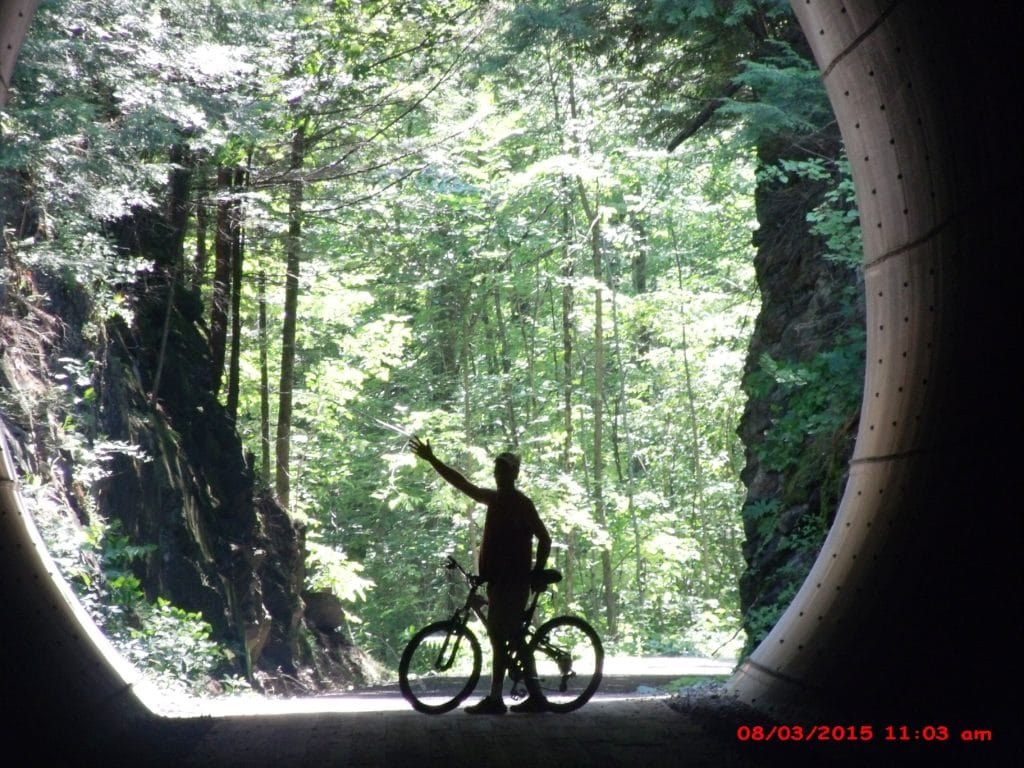 Northern Vermont rail trail popular for walking, jogging, biking, cross country skiing, and snowshoeing.
You can enjoy a 17 mile stretch of the Lamoille Rail Trail between  St. Johnsbury and Danville.  In addition to being a terrific walking trail, this is a great flat biking trail in the Northeast Kingdom of Vermont.
If you don't want to do the entire 17 mile Lamoille Rail Trail, you can choose to do a section of the trail. Our favorite section is starting from Marty's 1st Stop in Danville (a great place to park and grab a terrific lunch).  Head to Joe's Pond and come back to your starting point.
Or, if you are short on time, choose the 1.5 mile section called the Three Rivers Bike Path in St. Johnsbury. This is at the beginning of the Lamoille Rail Trail, on the eastern end.
What you need to know about the Lamoille Valley Rail Trail St. Johnsbury to Danville Vermont:
Get the Trail Map:  Download the Map of Lamoille Valley Rail Trail St. Johnsbury to Danville
Parking:
– At the East end: St. Johnsbury –  543 Main Street, St. Johnsbury Vermont
– In the middle: Danville – Marty's 1st Stop, 421 Route 2 East, Danville, VT 05828
– At the West end: Rt. 15 , West Danville at Joe's Pond parking lot
Terrain: This Vermont rail trail is wide and relatively flat, packed gravel surface (some hard packed dirt). Mountain bikes are recommended. But road and hybrid bikes do fairly well on this trail. A good choice for a flat easy bike trail near Rabbit Hill Inn.
The Tunnels: You will pass through a few short tunnels along the way. Do not hesitate, they are well lit with a motion activated lighting system.
Rest Rooms / Food: You will find rest rooms near Marty's 1st Stop parking area & the Joe's Pond Beach parking area. Map will indicate where food is available.
In summer, bring plenty of insect repellent. You'll have much more fun if you are well protected. Although the trails are wide and clear from the wooded surroundings, you will still need this.
Neighborhood biking paths and walking trails are a great way to travel like a local. The Vermont Lamoille Rail Trail is one of the best well-kept secrets. Meet the local folks along the way. Be sure to charge up your phone – you'll be taking a lot of pictures.
The Vermont Lamoille Valley Rail Trail continues to expand and eventually will  run 93 miles between St. Johnsbury and Swanton, covering 3 counties and 18 towns. This Vermont recreational trail will be one of the longest rail-trails in New England.