2018 FARMAGANZA  –  Saturday May 19th, 2018.
Now this is a REAL DEAL fun-filled Vermont experience!!  We're sending you to Harry's Hardware (trust us on this one) for seriously good time outdoor party. Harry's is one of our favorite places! You'll enjoy hanging out with awesome people, listening to terrific music (four local bands), an excellent line up of Vermont craft beers, eating great food from Sarah's Diner and Cabot's own Backroad BBQ!  This is an ultimate "travel like a local" experience. One that you will long remember. Check out all the details below: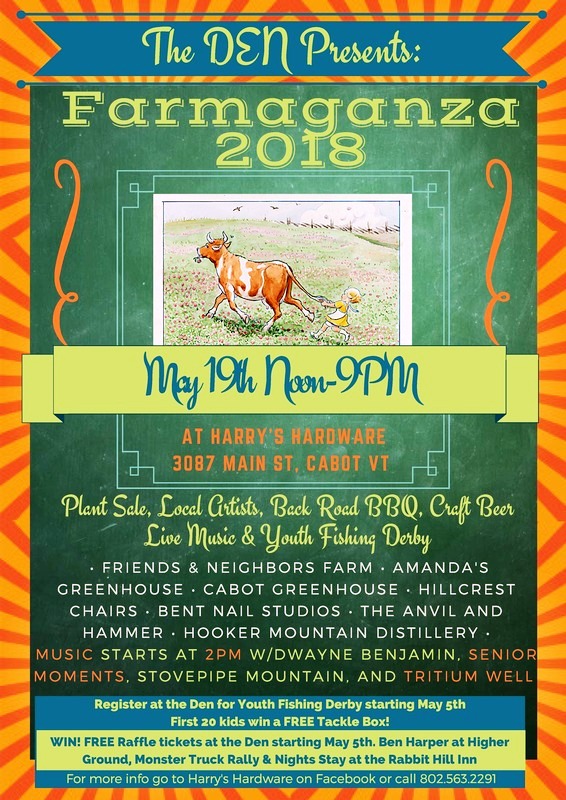 Date: Saturday May 19th, 2018
Time: Noon to 9 pm
Where: Harry's Hardware, 3087 Main Street, Cabot, Vermont
Music Lineup:
2:00pm – Senior Moments Country Band
3:30pm – Dwayne Benjamin Solo Bluegrass Musician
5:00pm – Stovepipe Mountain Band Americana Roots Rock Band
7:00pm – Tritium Well Radioactive Roots, Rock, & Reggae
Farmaganza Vendors: 
There's a youth fishing derby! Kids up to 16 years old can sign up starting for the Youth Fishing Derby as early as May 5. The first 20 kids through the door to sign up will receive a free tackle box on us! Prizes will be awarded to the biggest fish caught by a girl and a boy during the Derby on May 19th.
You can win some awesome prizes too!   Ben Harper Tickets at Higher Ground (June 2nd), Monster Truck Jam at Gillette Stadium (June 9th), or an  Overnight stay at the Rabbit Hill Inn.  Raffle tickets are FREE and are available at the store starting May 5. You must be present at Farmaganza to win. The drawing will take place between 5 and 6pm on May 19th.
Make a plan & join the party. It's a terrific way to celebrate Spring, Cabot – style!