This Blueberry Gazpacho Recipe is a winner!!
This blueberry gazpacho recipe is an off-the-charts delicious summer chilled soup.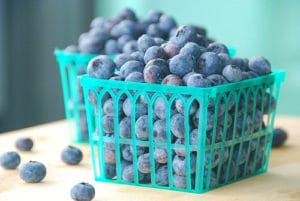 Perhaps you went blueberry picking or found them on sale. Now you are wondering what to do with them all. Before you put them all in the freezer, try this fantastic chilled blueberry soup recipe. Freshly picked blueberries are ideal for this summer soup recipe. But frozen blueberries will do in a pinch.
Our sous chef, Josh Riach created this wonderful recipe.
This gluten free chilled soup recipe is easy to make. Prep note: Have blender on hand
Ingredients:  Recipe yields 3 quarts.
4 pints fresh blueberries
2 yellow peppers – small dice
3 red peppers – small dice
1 cup creme fraiche
1/2 cup champagne vinegar
2.5 cups 1″ cubed bread (any kind)
butter (for sauteing bread cubes)
Thyme (for seasoning bread cubes)
1.5 cups water
1/2 cup heavy cream
1/4 cup sugar
1/4 cup olive oil
tad of aged sherry vinegar for a drizzle finish before serving
Method:
Combine all other ingredients (except aged sherry vinegar) into large bowl. Marinade at room temperature for 1 to 6 hours.
In a skillet, toast bread cubes in some butter & thyme. Make croutons. Set aside.
When marinade is complete, blend mixture in blender – in small batches.
Chill well
Serve chilled with topping of croutons and drizzle of aged sherry vinegar
** We like to serve this in chilled bowls
** You can freeze this soup. If consistency is not good upon thawing, re-blend it in the blender.
BONUS: Check out our online recipe files for more terrific recipes from the Rabbit Hill Inn kitchen. Use the search box for specific interests.