Plan on making this Curry Carrot Broccoli Soup Recipe a LOT!
This silky smooth and flavorful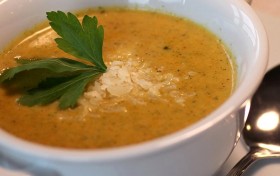 soup will become a favorite at your table.  Without doubt, your friends will be asking you to share this delicious healthy recipe. And yes, this is a gluten free vegetarian recipe.     
Side notes: Need large stock pot and blender.
Recipe yields 1 gallon
Ingredients:

1 head broccoli, rough chopped
1 med onion, medium dice
3 stalks celery, medium dice
5 carrots, peeled, medium dice
3 cloves garlic, minced
6 Tbls butter
3 qts water
1 qt heavy cream
4 Tbls curry powder
¼ cup brown sugar
salt & pepper to taste
Method:
Boil broccoli until tender; then shock in ice water for greener color.   Set aside.
In a stock pot, sweat onions, carrots, and celery until soft.
Add garlic and cook for 3 more minutes.
Add water, bring to a boil, and then reduce to simmer for 10-15 minutes.
Add broccoli, curry, brown sugar, and salt & pepper.
Cook for 10 more minutes.
Puree; then return to stock pot and add heavy cream.
Stir in puree and allow cream to warm.
Serve when desired temperature is reached.
BONUS: Check out our online recipe files for more terrific recipes from the Rabbit Hill Inn kitchen. Use the search box for specific interests.