King Arthur Flour Co. in Norwich Vermont is mecca for all those who bake, try to bake, want to learn to bake, or simply enjoy eating fantastically delicious baked items.
That pretty much covers all of us, doesn't it?  Lucky for us, King Arthur Flour Co. in Norwich, Vermont, is just an hour away from Rabbit Hill Inn.  This is why so many of our guests visit King Arthur Flour Co. during their stay with us.  Founded in 1790, it's the oldest flour company in America.  Today, it is a baker's paradise!  Here, you will find everything, discover exciting new things, learn new things, and taste new things.  Consider it a baker's "Disney experience" (sorry, no parade).  Three key tips — (1) if you go, go hungry (enjoy lunch in their awesome cafe or a snack in the King Arthur Bakery); (2) make sure there is plenty of room in the trunk of your car; and (3) plan on spending some time there.  If you take your time, you'll enjoy it more and not feel overwhelmed.
Fact is, most folks don't realize that Rabbit Hill Inn is so close to King Arthur Flour until they get here so we thought we would spread the news. If you wish to visit King Arthur Flour Co. during your next visit, we will gladly help you plan a terrific day trip.  While you're in the area, visit our friends at Stave Puzzles (also in Norwich).  Visit the nearby Woodstock/Quechee, Vermont area or the Dartmouth College/Hanover NH area (there is a terrific cooking store in Hanover called Main Street Kitchens).  And when your day is done, you're just an hour away from Rabbit Hill Inn.  
King Arthur Flour is open nearly every day except for major holidays. Click here for King Arthur store hours.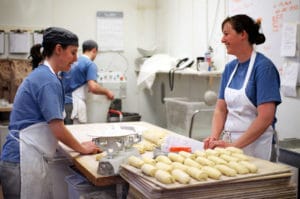 More stuff you NEED to know:
And may we suggest…  Sign on to their terrific blog (awesome recipes).  And be sure to join the nearly 60,000 other King Arthur Flour friends on FaceBook.  Tell them Rabbit Hill sent you. 😉  By the way, you ARE part of our Rabbit Hill Inn Facebook community, aren't you???