"Getaway Mavens found a lot of cool stuff to do and see in Vermont's Northeast Kingdom"
The Getaway Mavens want you to know that if you are planning a trip to Vermont, be sure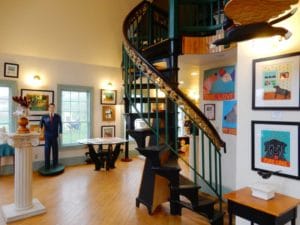 to spend time in the Northeast Kingdom. Better yet, spend ALL your Vermont vacation time in the Northeast Kingdom. There is plenty to experience here. Get off the tourist bus routes and explore the awesomeness of Northern Vermont.
There are endless miles of country roads to meander, rolling hills and farmland, fun towns and villages to explore. You'll find tons (yes tons) of activities here. Bike the Kingdom Trails at Burke Mountain, kayak or paddle board on Lake Willoughby, hike the trails of Mt. Pisgah and Mt. Hor. Visit Hill Farmstead Brewery (the #1 craft brewery in the world), along with several other awesome Vermont craft breweries and distilleries. Check out the Cabot Cheese Factory and the Dog Chapel. Don't miss the famous St. Johnsbury Library and Athenaeum  or the Fairbanks Natural Science Museum and Planetarium.
Rabbit Hill Inn is their top choice for lodging and dining in the Northeast Kingdom and St. Johnsbury area. Rabbit Hill Inn Restaurant offers amazing Vermont farm to table cuisine. It was recently noted as one of the "Four Bucket List Restaurants in Vermont" by the Burlington Free Press.
Read more from the The Getaway Mavens about their discoveries in St. Johnsbury and the Northeast Kingdom of Vermont. It will make your Vermont vacation planning so easy!
About the Getaway Mavens –
You may already be big fans of the Getaway Mavens. They cut through all the travel advertising hype, pass on typical touristy stuff, and seek out the best "real deal" places to see, stay, eat, and experience throughout the Northeast. These folks travel many miles and spend many nights to discover the best of the best. They speak from first hand experiences and with their help, you can plan your perfect getaway.
You'll find travel information from the Getaway Mavens in many national publications (USA Today, National Geographic Traveler, NewsDay, etc). Or you can just check out their website and blog for tons of great travel information.