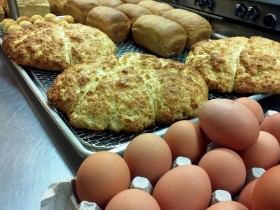 This fantastic savory scone recipe often appears on our breakfast buffet.  By popular request, Pastry Chef Phyllis is sharing the recipe. This versatile scone recipe is a real keeper!  You can enhance it with a variety of flavorings (sweet or savory) and modify options (such as nuts, seeds, cheese, other dried fruits, etc).
This easy scone recipe yields 8 scones.  Have parchment paper on hand.
Ingredients:
2 cups flour
2 tsp baking powder
½ tsp baking soda
½ tsp salt
½ cup finely chopped sundried tomato
¼ cup chopped chives or scallions
¼ cup cold butter, cut in cubes
½ cup buttermilk
1 egg
Egg wash
Method:   Pre-heat oven to 375 degrees. Have parchment paper on hand.
Sift flour, baking powder, baking soda, and salt into a bowl. Toss in chives & tomato
Add butter cubes into flour mixture & work lightly info flour
In a small bowl, mix buttermilk & egg together. Add to flour mixture and knead until combined
Flour your hands and pat the dough into a 7-8" circle on a parchment lined baking pan.
Brush scones with some egg wash.
Bake 15-17 minutes at 375 degrees until golden color & toothpick comes out clean.
Cool on rack. Re-cut wedges. Serve warm. Or freeze.