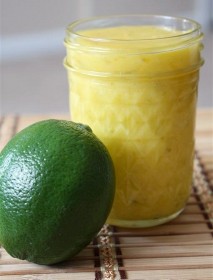 This Rabbit Hill Inn Lime Curd Muffin recipe is a big hit on our breakfast buffet.  As you can see by many of our delicious muffin recipes, it always begins with our versatile basic muffin recipe.  From there,  the options are endless.  And this Rabbit Hill Inn Lime Curd Recipe can be used in many other ways, including lovely lime curd desserts, pie and tart fillings, and spreads for scones.
Recipe Yield: 12 standard size muffins
Ingredients for muffin batter:
2 cups sugar                           1-cup oil
4 eggs                                    2 cups sour cream
4 cups all-purpose flour           2 tsp baking soda
½ tsp baking powder
Lime Curd (use a good quality jar curd or make your own. See our lime curd recipe below.)
Ingredients for streusel topping:
1 cup flour                   1 cup sugar                 ½ cup melted butter
In a separate bowl, blend these ingredients together and set aside.
Ingredients for Lime Curd:
3 eggs & 3 egg yolks  -> place in bowl & wisk
5 oz of lime juice (fresh) & 1 cup of sugar -> bring to simmer in sauce pan to dissolve sugar
1 tsp of lime zest
1/2 cup of butter, softened
Method for lime curd:
Pour 1/4 of the warm syrup over the egg mixture, wisking.
Then pour egg mixture into the rest of the simmering syrup – wisking constantly to slowly thicken to a custard consistency
Immediately strain through a fine sieve into a storage container
Add 1 tsp of lime zest and 1/2 cup butter.  Stir to incorporate. If you wish for a deeper green color, add a drop of food color.
Cover and refrigerate until cool.
Method for muffins:
Mix together sugar, eggs, and oil.  Pour in sour cream and continue to mix.
Add flour, baking soda and baking powder. Mix only until these ingredients are  incorporated.
Scoop into greased muffin tins.
With a spoon, make an indentation on top of each muffin.  Fill with a tsp of lime curd.
Sprinkle top with streusel and bake at 350°F for about 15-20 minutes (or until done).