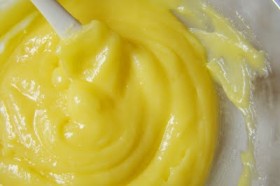 This delicious homemade Lemon Curd Recipe will become one of your favorite staple recipes.  It can be used for many recipes. Perfect for pie, tart, and donut fillings. Or a delicious spread on breads, muffins, and scones. Be warned, it's mighty good by the spoonful too. Hopefully there will be some left to bake with. Bonus note: Use this lemon curd with our Lemon Curd Poppy Seed Coffeecake recipe.
Ingredients:
Zest from 2 lemons
10 oz lemon juice
1 lb sugar
6 eggs and 6 yolks -> beat together in bowl and set aside
8 oz butter ->  cut into pieces
Directions:
1. In a sauce pan, stir together lemon juice and sugar. Bring to boil.
2. Temper egg mixture with 1 cup of the boiling lemon/sugar mixture.
3. Then add the egg mixture into the sauce pan with the remaining lemon/sugar mixture. Whip constantly until slightly thickened. Remove from heat.
4.  Strain, add butter and zest.  Mix until butter is melted.
5. Cover with plastic wrap and cool.