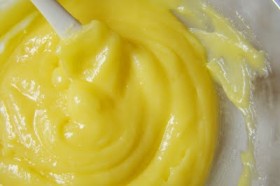 This delicious coffeecake often appears on our breakfast buffet.  By popular request, Pastry Chef Phyllis is sharing the recipe.  As a time saver,  she suggests using a high quality purchased lemon curd. But if you wish, she will gladly share her lemon curd recipe. Just send a request on FaceBook.  By the way…  the coffeecake  and streusel topping recipes are real keepers!  Using this as your basic cake, the flavor options are endless.
… special shout out to Jennifer B from NH who really enjoyed this cake during her visit.   😉
Rabbit Hill Inn Lemon Curd Poppy Seed Coffeecake Recipe    Yield one 9″ cake
Ingredients for cake batter:
1 cup butter                                         1 tsp vanilla
2 cups sugar                                        2 cups all-purpose flour
2 eggs                                                 1 ½ tsp baking powder
1-cup sour cream                                ¼ tsp baking soda
Poppy seeds
Jar of lemon curd (if you wish to make your own, feel free to ask for our recipe)
Ingredients for streusel topping:
1 cup flour      1 cup sugar    ½ cup melted butter
Blend these ingredients and set aside.
Method:
Grease & flour a 9" cake pan.   Pre-heat oven to 325ºF
Cream together the butter and sugar.
Add eggs, vanilla, and sour cream to the butter and sugar mixture.
Add flour, baking powder, and baking soda and continue to mix.
Spread half of the batter into the pan.
Apply a layer of lemon curd
Sprinkle a layer of poppy seeds
Spread the rest of the batter over the lemon curd
Sprinkle the streusel mixture over the top.
Bake at 325ºF until a toothpick inserted into the middle comes out clean.