Rabbit Hill Inn homemade raised doughnut (donut) recipe.
This homemade glazed raised donut recipe will make you say "Who needs Dunkin' Donuts or Krispy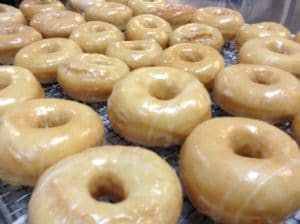 Kremes?  And those grocery store bought boxed donuts… forget-about-it!"  You really can make your own light, airy, delicious raised glazed donuts. Pastry Chef Phyllis is sharing her family doughnut recipe with you (I begged her). In addition to the doughnut recipe, you can watch the "How To Make Donuts" baking video below to see how it's done. If you have any questions, just ask us on our Facebook Page.  Hey, let us know if you make these & send us a picture your donuts.
Ingredients:
1 cup milk (lukewarm to touch)
1 oz. yeast  (1 oz=4 Tbsp)
3 tsp sugar
1/2 tsp salt
2 oz. shortening (Crisco)
1/4 cup eggs (1 large egg should =1/4 cup)
1 lb.  flour
Method:
Step 1:  Pour milk into mixing bowl. Sprinkle yeast over milk. Let sit for 5 minutes, or until yeast starts "working".   Now add the remaining ingredients.
Step 2: Mix with a dough hook for 5 minutes. You can also knead this by hand. Do this until soft dough forms. Cover. Let dough rest for 30 minutes in a warm place (until it is double in size)
Step 3: On floured surface, roll out dough until 1/2″ thick.
Step 4: Using cutter, cut out donuts. Place donuts on flat floured surface.
Step 5: Proof till double in size
Step 6: In deep frying pot, heat shortening to 375 degrees. Fry donuts until golden color. Flip over and fry on other side.
Step 7: Remove from oil. Rest donuts on brown paper or parchment to absorb oil.
Step 8: Glaze with thin icing or chocolate. See video for more info on icing tips.
Watch the "How To Make Homemade Donuts" cooking video below: