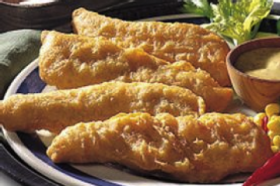 This easy chicken tenders recipe may become your favorite go-to recipe. It's a great recipe for an easy casual dinner.  And a terrific chicken appetizer recipe for parties, movie night, or while watching the big game. As a bonus… you'll find this Maple-Apple Mustard recipe very versatile. Experiment and use it with all kinds of dishes and appetizers. It's a fantastic sweet mustard recipe that you will be making in double batches, and often!
Preparation of the Ale Batter:
1-cup flour                                                                  2 tsp cornstarch
1 tsp salt                                                                    ½ tsp white pepper
1 tsp ground mustard                                                  2 egg yolks
1 whole egg                                                                 ¾ cup ale
Mix the dry ingredients together in a bowl.  In a separate bowl, mix the wet ingredients.
Add the wet to the dry and mix to a smooth batter.
Preparation of the Maple-Apple Mustard:
2 oz yellow mustard seeds                                          3 Tbls ground mustard
¼ cup apple cider                                                        ¼ cup maple syrup
Combine and refrigerate for 24 hours.
2 cups apple puree                                                      ¼ cup diced onion
¼ cup apple cider vinegar                                              3 Tbls brown sugar
1/3 tsp salt                                                                  ½ tsp allspice
1 Tbls maple syrup
Remove mustard seed mix from refrigeration and puree it.
Place mustard mix in a saucepan and add the remaining ingredients.
Allow to simmer for one hour.
Preparation of the Chicken Tenderloins:
2 whole boneless, skinless chicken breasts cut into 1″ strips or 8-10 pieces
Olive oil
Ale Batter
Place olive oil in a heavy saucepan to one inch in depth. Heat oil until hot but not smoking.
Dip chicken pieces into batter letting excess batter drip off.  Then place into hot oil one at a time.
Fry for 2-3 minutes per side or until golden brown.  (Cooking time will vary depending on thickness of chicken breasts, temperature of oil, and heaviness of the batter).
Remove from oil and drain on paper towels.
Serve on platter with mustard on the side.