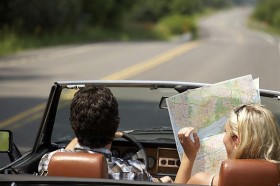 Planning a road trip to Canada but you don't feel like driving too long?  Need a place to stay on the way Montreal or Quebec City?  Rabbit Hill Inn is just under 3 hours from Montreal or 4 hours to Quebec City.  This is the perfect stop to stay the night and break up the long journey.  Actually, Rabbit Hill Inn is just an hour from the Canadian boarder, which gets you to the Western Townships of Canada in an hour.  Many guests will visit us on both sides of their Canada vacation trip.
There is always so much to see and do in these exciting cities. Both Montreal and Quebec City have great event calendars to help you plan your trip.  And a visit to Rabbit Hill Inn is the perfect place to relax and unwind from all the busy city fun.
So if your planning a vacation trip to Montreal, Quebec, or the North Hatley area in Canada, consider a night of two at Rabbit Hill Inn on the way.  It will make your vacation much more relaxing.
Here is more tourism and trip planning information for Montreal and Quebec City.