The Ice Castles at Loon Mountain is NOW OPEN in Lincoln New Hampshire! And it's just 30 minutes away from Rabbit Hill Inn.
It'a a real Ice Castle! Imagine the thrill of walking through the center of massive glacier-with solid pillars of ice,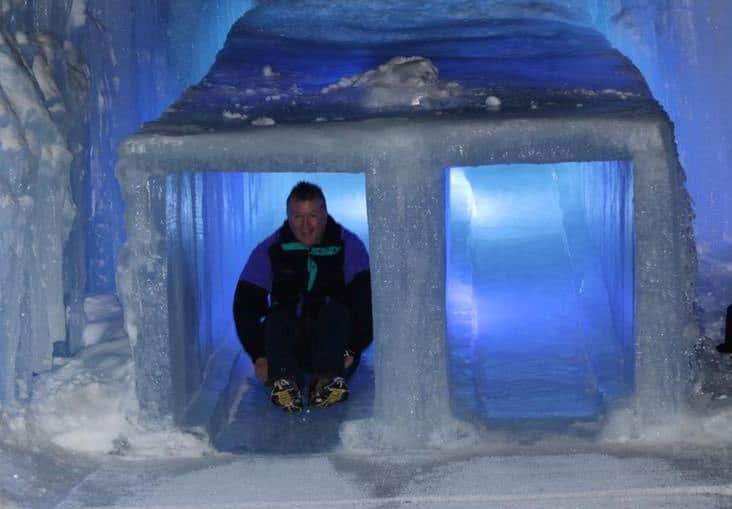 combined with ice tunnels, caves, slides, archways, and secret stairways. There is even a glistening fountain in the center of all this coolness (literally). All of it built out of solid ice. At night, LED lighting makes the Ice Castles even more magical.
This is one of only six carefully crafted Ice Castles in the country. Read below for all the important information you need to know before you go.
Plan your visit soon! This Ice Castle will close in early March.
Check out the high energy Fire Show at the Ice Castles! Every Friday & Saturday, from 7:15 to 10:15 pm, you'll see a variety of fire acts such as fire breathing, spinning torches, fire dancing, and more. If weather is extreme, these performances may be cancelled. Show runs periodically throughout these hours.
Loon Mountain Ice Castles Information
What you need to know:
Location of the Loon Mountain Ice Castle: Hobo Railroad, 64 Railroad Street, Lincoln NH
Ticket Prices for Ice Castles in Lincoln New Hampshire: $15.95 midweek, $18.95 weekends. Buy Ice Castle tickets online here. No need to print online tickets. They will scan your phone when you get there.
Hours: Tues thru Thurs: 4 – 9 pm, Fri 4 – 10:30 pm, Sat 11 am – 10:30 pm, Sun Noon – 8 pm. Sun & Mon Closed (except for Monday Holidays 1/21, 2/18, 2/25)
Parking Fees: You will need to purchase a parking pass. Online – $7, Onsite – $10
When you buy your ticket, you will be assigned an arrival time – you must arrive within 30 minutes prior to your assigned time. You can stay as long as you wish. If you leave, you cannot re-enter the castle.
Wear WARM winter boots. The floor is made of ice!!
Directions to Loon Mountain Ice Castles: Just 30 minutes from Rabbit Hill Inn
If you are traveling North or South on I-93: Take Exit 33 on I-93, Continue on US-3 South. Take Connector Rd to Railroad St.
If you are in Lincoln, travel to Connector road and go west. The Ice Castles are a few hundred yards on the left.
Signs are placed between exit 33 and the Ice Castles directing you into the Ice Castles. Keep an eye out for these signs!
It's time to start planning your winter adventure getaway – there is SO much to do here!