Vermont Craft beer is one of the hottest Christmas gifts for adults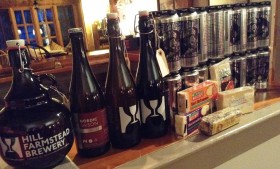 If you wondering where you can buy some Heady Topper beer for the holidays – can help you with that!
Do you have some beer lovers on your Christmas list who would LOVE  to get their hands on some world famous beers from Hill Farmstead Brewery?   We got that!
Just head on up here to Northern Vermont to buy some of the world's top rated beers – literally. Our Vermont Craft Beer Tour will get you to all the best Vermont craft breweries and make your Christmas shopping so easy.
In just one shopping day, you can purchase the hard-to-find coveted Heady Topper from the Alchemist Brewery, and varieties of awesome beers from Hill Farmstead Brewery. Not to mention all the terrific craft beers from Lost Nation, Rock Art, von Trapp, Idletyme, Next Trick Brewery, and Schilling Beer Co.  They are all right here!
Remember to pick up some Vermont craft beers for your holiday and New Year's eve parties or for hostess gifts. Along the way, treat yourself to a bite and a brew at the Prohibition Pig or Crop Bistro.
And don't worry, there are tons of fun boutiques and unique stores to shop for all the other gifts that are on your list.   Make sure that you have a lot of room in your trunk. You are going home with everything on your list and much more!
You can even stop at the nearby Rocks Estate Christmas Tree Farm and pick up a tree & wreath on the way home. They'll wrap it tight and secure it to your car for a safe ride home.
Treat yourself to night or two at Rabbit Hill Inn for a little pre-holiday getaway and take care of all your Christmas shopping at the same time. Get away and get it done.
These  Vermont Craft beer gifts will make you more popular than Santa himself.  And you'll have a ton of fun all at the same time.
For more details on the best Vermont craft breweries, check out our "Top Ten" Best Vermont Beer Trail ".