Vermont Sleigh Rides near Rabbit Hill Inn ~ a must-do during your next winter
getaway!
Vermont winter getaways must include a romantic horse drawn sleigh ride. We hear it oh-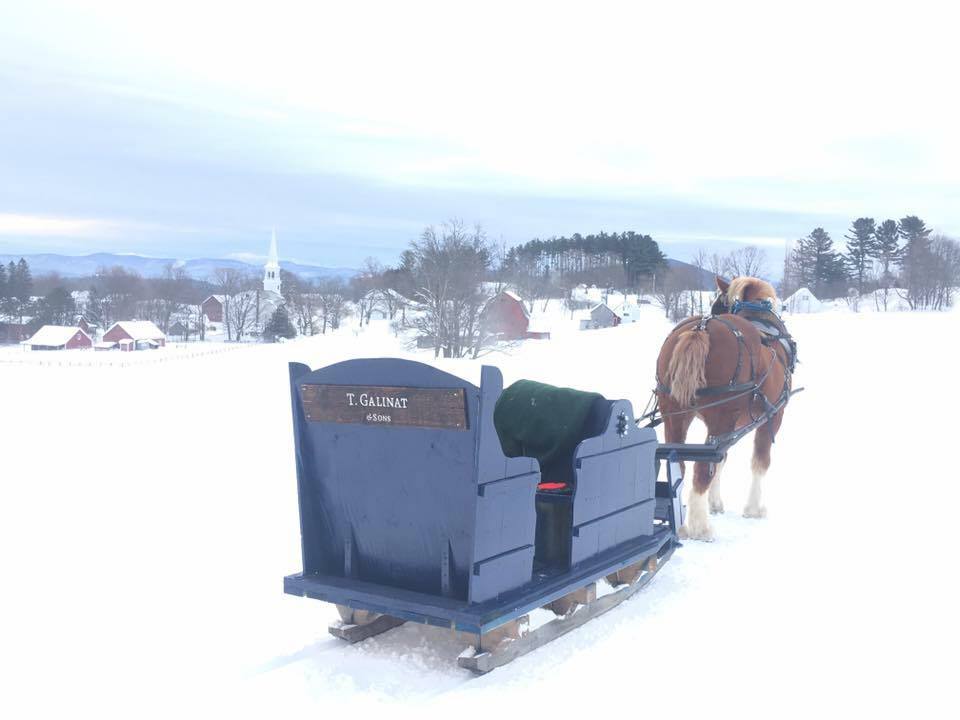 so- often, "we've always wanted to go on a horse drawn sleigh ride, just like in the movies."   Well, wait no longer!  Upon booking your Rabbit Hill Inn winter getaway, we will gladly arrange a private romantic sleigh ride for you, bells and all!  Bundle up, bring your camera, and enjoy every moment.
Private horse drawn sleigh rides are available in the nearby villages of Peacham or East Burke Vermont (both just 30 minutes from the inn).
In Peacham, Tom Galinet from Foxfire Revival Farm will host you for a private 30 minute sleigh ride through snow covered woods and rolling hills with stunning mountain views.  His cozy handcrafted sleigh is designed for romantic rides. After the ride, warm up by a fire & enjoy a hot cocoa. $50 for 2 people, $80 for 4 people.
In East Burke, Jeff Simpson will take you on a 30 minute private ride through snowy wooded trails and lovely views of Burke Mountain. If you wish to enjoy a sleigh ride with friends, this sleigh can accommodate that as well. $75 for 2 people, additional cost for more passengers.
Fee is paid in cash directly to the sleigh operator. Don't miss the opportunity to check this off your bucket list.  Keep in mind, Vermont sleigh rides are very popular so advance reservations are highly recommended.  Make your Rabbit Hill Inn winter getaway extra special (and extra romantic).