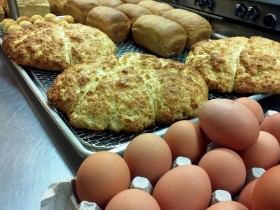 This delicious cornmeal scone recipe often appears on our breakfast buffet.  By popular request, Pastry Chef Phyllis is sharing the recipe.  By the way…  this versatile scone recipe is a real keeper!  You can enhance it with a variety of flavorings and additional options (such as nuts, raisins, etc).
This cornmeal scone recipe yields 8 scones.  
Have parchment paper on hand.
Ingredients:
1 1/2 cups flour
3/4 cups cornmeal
1/4 cup brown sugar (packed firm)
2 tsp baking powder
1/2 tsp salt
1/3 cup butter (chilled and cut in 1/2″ cubes)
1/2 cup milk
1 egg
1 tsp vanilla
egg wash for final brushing before baking
Method:
Stir first 5 ingredients in a large bowl.
Cut in the butter until you have course crumbs.
Beat the wet ingredients together. Then stir into the dry mixture, just until combined.
Flour your hands and pat the dough into 8″ circle on baking pan lined with parchment paper.
Cut circle into 8 pie wedges. Brush with beaten egg wash.
Bake for 15-18 minutes, until golden color.