Rabbit Hill Inn's Signature Oatmeal Molasses Bread Recipe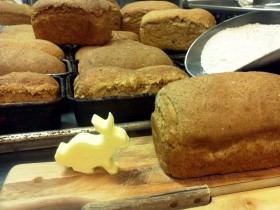 The Rabbit Hill Inn Oatmeal Molasses Bread has been baked and served at Rabbit Hill Inn for more than 100 years. This sweet, moist homemade bread will become your signature bread too. We serve it in small individual sized loaves. You can make any size you wish. This recipe also makes great dinner rolls. But be sure to make extra – it freezes well!!
This recipe yields 2 standard size loaves.
Ingredients:
1 cup quick oats                                            1 ½ Tbls. Butter (we prefer unsalted butter)
1 package dry yeast                                     ½ cup warm water
½ cup molasses                                            2 teaspoons salt
4 ⅔ cups flour
Method:
Bring 2 cups of water to a boil.
Remove from heat and stir in 1 cup of quick oats and 1 ½ Tbls. of butter.  Let stand for 1 hour.
Soak 1 package of dry yeast in ½ cup lukewarm (105°F) water for 5 minutes.
Stir until dissolved and add ½ cup of molasses and the oatmeal mixture.
Sift flour & salt together. Add to mixture.
Knead for 8 minutes.
Allow to rise until doubled in bulk.  Divide into 2 pieces and mold into 2 loaves of bread.
Leave to rise in a warm place covered with a towel until doubled in size.
Bake at 350°F for approx 30-40 minutes (or until done/golden brown). Make note: Some home ovens require a temp of 375°
**  If using a convection oven, Bake at 325. Bake for 10 minutes, rotate, then bake for 8-10 more minutes, or until done.
BONUS: Check out our online recipe files for more terrific recipes from the Rabbit Hill Inn kitchen. Use the search box for specific interests.