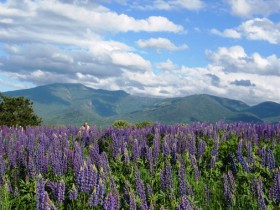 The glorious field of lupines usually go into full bloom in mid-June in Sugar Hill New Hampshire. Sadly, the Fields of Lupine Festival for 2021 has been cancelled.
HOWEVER, you can STILL enjoy the beautiful lupine fields. 
Please note that the walking paths through the fields will closed to the public.  But you can still drive to Sugar Hill and view the lupine fields from the surrounding roads. Again, please refrain from walking in the fields.
You'll see the brilliant field of lupines – literally thousands of lupines. It's a rolling sea of vibrant purples, pinks, blues and whites.  They create a magnificent floral display against the majestic backdrop of the Franconia, Presidential, and Kinsman Mountain ranges. You are guaranteed awesome photo opportunities. Every nature and flower lover must see the field of lupines, at least once.
Stay at Rabbit Hill Inn for a well-deserved summer getaway this June and check out the breathtaking Fields of Lupinesl.  Some say it's the "fall foliage" of summer!  The Lupine Fields in Sugar Hill New Hampshire is less than 20 minutes from Rabbit Hill Inn.