Rabbit Hill Inn Soba Noodle Summer Vegetable Salad Recipe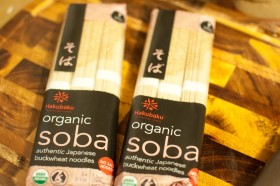 This Soba Noodle Summer Vegetable Salad recipe is a delicious, healthy, and gluten free summer salad recipe! It's packed with flavor. And the crunch of the pear & cucumber is awesome. Toss in any other vegetables you may have on hand. This simple soba noodle salad is easy to prepare – a perfect quick summer dinner recipe or side dish. The leftovers are terrific the next day.  As a bonus, the salad dressing recipe is a real keeper. You'll be using that on plenty of other salads and dishes.  This soba noodle salad recipe is easy to prepare in larger amounts. Consider this summer salad for a backyard summer party. And yes, Soba noodles are gluten free!
Soba Noodle Summer Salad Recipe  Yield: 4 servings
Ingredients and method to serve 4:
3 oz soba noodles, blanched and cooled.  Set aside in large bowl.
½ cup cucumbers, seeded, peeled, diced small
½ cup shiitake mushrooms, sliced, tossed in 1 tsp peanut oil and grilled
2 Tbls scallions, grilled and diced
½ cup Asian pears, diced small
2 tsp toasted sesame seeds
Add all these ingredients to the soba noodles. Toss to combine well.
For the salad dressing:
1 ½ Tbls soy sauce
1 tsp minced fresh ginger
1 tsp minced fresh garlic
½ tsp sesame seed oil
1 tsp rice wine vinegar
¼ tsp chili oil
Combine these salad dressing ingredients and mix well. Pour over salad mixture and toss well.
BONUS: Check out our online recipe files for more terrific recipes from the Rabbit Hill Inn kitchen. Use the search box for specific interests.