Quechee Hot Air Balloon Festival 2020 has been cancelled
41st Annual Quechee Hot Air Balloon Festival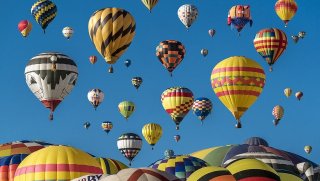 usually runs every year on Father's Day weekend. Due to Covid 19, this annual event will not take place in 2020. Please keep your sights on this outstanding event for 2021. Below, you will find general details of what this festival offers.
This is a "must-see" Vermont summer event. The longest running hot air balloon festival in New England. The skies over Quechee Vermont and nearby New Hampshire will be filled with stunning colorful hot air balloons.   
Adding to the excitement, the
Quechee Hot Air Balloon weekend also features a terrific Craft & Music Festival.
The large fleet of hot air balloons will run five scheduled flights throughout the festival and additional tethered rides during the day. Enjoy
continuous music and entertainment,
and over
60 craft artisans
and commercial vendors. And of course there will be plenty of festival food with local healthy options and a beer and wine garden.
Yes! You can take a Hot Air Balloon Ride too!
Tethered Hot Air Balloon Rides (5-10 mins long) are $20 per person (no advance reservations).
Full Hot Air Balloon Rides (allow 2 hrs, 30-40 mins in the air) are $245 per person (advance reservations recommended). Click here to book your Hot  Air Balloon Ride
Details for the Quechee Vermont Hot Air Balloon Festival 2020:
Other helpful info:
Bring a blanket to relax and enjoy the festival grounds.
Bring insect repellent.
No coolers or pets allowed on the grounds..
Make the Quechee Vermont Hot Air Balloon Festival a must see this summer. Better yet, make a getaway plan. After you have enjoyed the festivities, escape the crowds and treat yourself to a relaxing stay at the
Rabbit Hill Inn
( just 1 hour away from Quechee / Woodstock Vermont ) Stay a few nights. There is so much to do and see here!