Rabbit Hill Inn Restaurant makes the cut as one of the best restaurants in North America, according to AAA
Applause! Applause! Rabbit Hill Inn is thrilled and proud to be one of only 5 restaurants in Vermont awarded this Four Diamond status. And to make it sweeter – Rabbit Hill Inn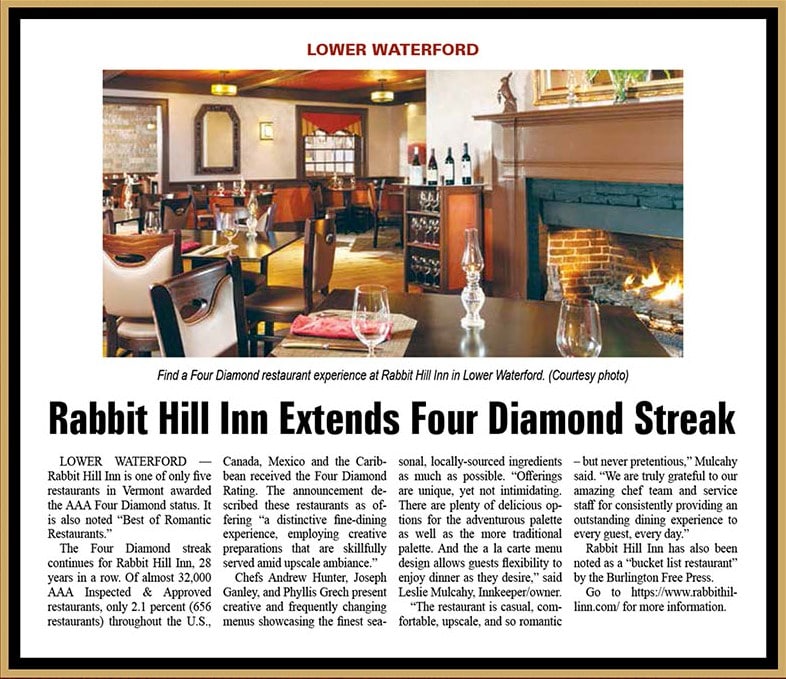 is also noted "Best of Romantic Restaurants".
Of almost 32,000 AAA Inspected & Approved restaurants, a total of 656 restaurants throughout the U.S., Canada, Mexico and the Caribbean received the Four Diamond Rating. The announcement described these restaurants as offering "a distinctive fine-dining experience, employing creative preparations that are skillfully served amid upscale ambiance."
The newly renovated Rabbit Hill Inn Restaurant is perfect for a casual night out or a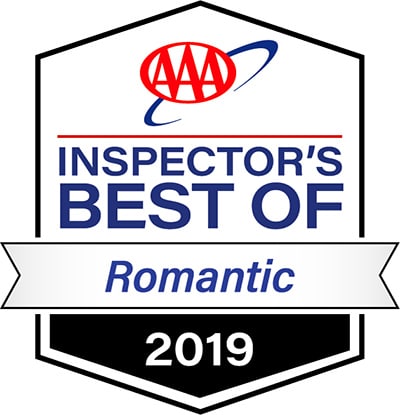 special celebration. The experience is relaxed, comfortable, fun, and memorable. It's classy, upscale, and romantic – but in no way pretentious or formal.
The food will blow you away! Chefs Andrew Hunter, Joseph Ganley, and Phyllis Grech proudly offer inspired creative fare showcasing the finest seasonal locally sourced ingredients as much as possible.
The a la carte seasonal menus change frequently. Offerings are unique, yet not intimidating. There are plenty of delicious options for the adventurous palette as well as the more traditional palette. We gladly accommodate dietary restrictions and food allergies – advance notice is appreciated.
As the constant reviews reveal, the amazing cuisine rivals any big city restaurant and the stellar attentive service is nothing short of wonderful. The environs are transitional in style with romantic lighting, warm spicy colors, and  contemporary accents, and fireplaces. The locally handcrafted tables and amazingly comfortable cushioned seating makes the dining experience so relaxing. Conversations are easy here with well thought out acoustics and balanced background music (no obnoxiously loud noise or echoes).  As our guests frequently say, "It feels good here".
Be sure to arrive early and enjoy a perfectly crafted cocktail or local brew.  The cozy pub is well stocked with fine assortment of spirits, wines, and Vermont craft beers on tap.
Rabbit Hill Inn Restaurant, has been noted as a place for "destination cuisine". Imagine, one of Vermont's best restaurants is tucked away in this tiny village of Lower Waterford. And this is why we say the "Rabbit Hill Inn is a deliciously romantic Vermont experience." The only thing that could your make your evening better is staying overnight at the inn.
Rabbit Hill Inn Restaurant is also noted as a "Bucket List Restaurant in Vermont" according to the Burlington Free Press.
What you need to know: 
Call now for reservations – (802) 748-5168. Due to the intimate size of the dining room, reservations are required. Restaurant is closed on Wednesdays.
Location of Rabbit Hill Inn Restaurant: 48 Lower Waterford Road, Lower Waterford, Vermont 05848
Rabbit Hill Inn Restaurant s located 10 minutes from Littleton New Hampshire and 10 minutes from St. Johnsbury Vermont