Top Vermont Craft Beer Haul Guide. Visit the best Vermont Craft Breweries and Taprooms all in one getaway. Save time for the best New Hampshire Breweries that are nearby. 18 beers stops in all!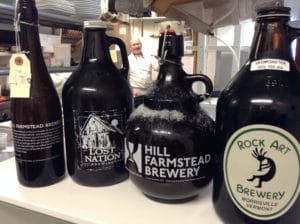 Beer lovers know that some of the very best beers are brewed in Vermont. And they are flocking to Northern Vermont to taste (and fill their trunks) with all the award-winning craft beers made right here in our neck of the woods. This "Top Vermont Craft Breweries Beer Trail" features the best breweries and taprooms in Vermont.
As a bonus – there are  additional "not-to-miss" New Hampshire craft breweries VERY nearby. That's a total of 18 beer stops on this terrific beer trail. Possibly the BEST beer experience ever!
The world famous Hill Farmstead Brewery in Greensboro (rated #1  best brewery in the world), Vermont and The Alchemist (home of Heady Topper) tops our list.  Beer fans should not miss this "Top Vermont Brewery Guide". Make sure that your trunk and back seat is empty – you're going back with a massive beer haul. Imagine, you can visit so many TOP Vermont craft beer breweries and taprooms all in one trip!
Hill Farmstead Brewery in Greensboro, VT. The ultimate beer pilgrimage.  Named, for the 6th year in a row, 2019 Best Brewery in the World, Best Brewery in Vermont, and New England by RateBeer. Also, many of their beers are listed top ten new beers in the world.  403 Hill Rd, Greensboro Bend, VT (802) 533-7450  Wed – Sat, 12:00 – 5:00 pm. (Be smart, get there by 11:00 am)
Rock Art Brewery in Morrisville VT.   A larger production brewery – large variety of craft beers. Tastings and self-guided tours avail. 632 Laporte Rd/Rt 100, Morrisville, VT  (802) 888-9400 
Lost Nation Brewing Co in Morrisville VT. Excellent beers AND good food. Several brew varieties crafted here.  Wed-Sun, 11:30 am – 9 pm. 87B Old Creamery Road, Morrisville, VT (802) 851-8041
The Alchemist Brewery in Stowe VT.  Home of the flagship double IPA, Heady Topper, Focal Banger, and many others. Everyone wants it – people hoard it.  Visit their very new brewery and tasting center. 100 Cottage Club Rd in Stowe.
(802) 244-7744  Open Tuesday – Saturday, 11:00 am – 7:00 pm 
The Prohibition Pig in Waterbury VT.  Micro-brewery & terrific taproom w/ New England's largest selection of craft beers and good food.    23 South Main St, Waterbury, VT.
(802) 244-4120
von Trapp Brewery & Bierhall in Stowe, VT.  Austrian brewery – traditional Euro style Lagers. 1333 Luce Hill Rd, Stowe VT  (802) 253-5750 
Idletyme Brewing Co in Stowe VT. Great brewery & restaurant. Wide variety of ales & Lagers brewed onsite, creative seasonal menu.   1859 Mountain Rd, Stowe VT
(802) 253-4765
Lawson's Finest Liquids in Waitsfield, VT.  Home of the famous Sip of Sunshine, and SO many more. The Taproom is truly awesome! Small menu of foods that match the delicious beers. Outside seating, fire pits, and more.  155 Carroll Rd, Waitsfield, VT (802) 496-HOPS 
Schilling Brew Co in Littleton NH.  Just 15 minutes from Rabbit Hill Inn. WE LOVE THIS PLACE!! Outstanding microbrewery producing fantastic a wide variety of Euro-inspired brews. Awesome tasting room & cozy taproom (small menu w/great food. Brick oven pizza & more).  Awarded 2019 BEST pale lager in the world by RateBeer!
18 Mill Street, Littleton, NH. (603) 444-4800.
Woodstock Station Inn & Brewery in Woodstock NH.  Great beers crafted on site. Great pub food to match.  135 Main St, Woodstock, NH  (603) 745-3951
BONUS Beer Tips! But wait! There's more! Don't miss these other fantastic microbreweries & tap rooms only 10 -20 minutes from Rabbit Hill Inn.  Add to the list –
Next Trick Brewing
Red Barn Brewing
Ten Bends Brewery
Whirligig Brewing
Dirt Church Brewing Co.
Kingdom Taproom
Rek-Lis Brewery
Iron Furnace Brewery
Littleton Freehouse Taproom

Clearly, we can keep your brewery crawl going for days!
Fun Fact: Vermont has the highest number of brewers per capita in the United States.  We're just lucky to be near the best ones! If you are wondering "where are the best beer breweries in Vermont?" – Hit this Top Vermont Beer Trail.
Plan your getaway at the Rabbit Hill Inn and your Vermont brewery road trip. You'll go home with the best craft beer haul ever!