Orange Meltaway Cookie Recipe from Rabbit Hill Inn
These delicate and delicious Orange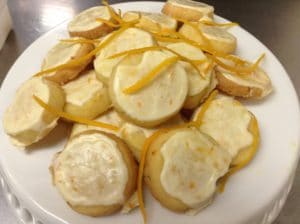 meltaway cookies really do melt in your mouth. And for this reason, you will eat many. Be sure to make double batches. You can even make the dough ahead of time and keep it in the freezer. The other day, one of our guests (Amy) found these on our tea time table and fell in love with them. So Amy, this recipe is for you, my friend. Enjoy the meltaway goodness!!
Make note: You can make these in so many other flavors. So be playful with the recipe.
Try making Lime Meltaway Cookies too Simply replace with lime juice & lime zest.
Orange Melt-away Cookie Recipe
Cookie Ingredients:  Have parchment paper on hand
2 cups butter, softened
1 cup confectioners sugar
1 tsp vanilla
4 cups flour (sifted)
4 tsp orange zest
Orange Glaze Ingredients:  Make ahead and set aside
4 tsp orange zest
1/2 cup orange juice
2 Tbsp cooking oil
1 cup confectioners sugar
> Mix glaze ingredients. If needed, add more sugar to adjust consistency.
Step one:
Cream butter and sugar. Add vanilla and zest. Scrape bowl. Then add flour. Mix until flour is incorporated.
Step two:
Roll dough in parchment paper to form a log in 1″ diameter. Chill the dough.
Step three:
Slice 1/4″ thick. Place on baking sheet (lined with parchment). Bake at 350 degrees. 10 – 12 minutes. When cool, glaze with orange icing.
BONUS: Check out our online recipe files for more terrific recipes from the Rabbit Hill Inn kitchen. Use the search box for specific interests.