The Dells Nature Trail is a quick & easy walking trail in downtown Littleton New Hampshire. It's about a 25 minute walk along an easy to follow wooded path slightly less than a mile long.
The Dells Trail is a nice spot for a picnic. Tables are available right by the pond.  It's also a terrific spot for bird watching. Take time to check this out as you visit the  awesome shops and eateries in downtown Littleton New Hampshire. It's only a few blocks away from Main Street.
Location: 109 Dells Road, Littleton, NH.  Just 12 minutes from Rabbit Hill Inn. Follow Route 18 South all the way into Littleton, Turn right on Dells Road, Dells Park is on the left.  Side Note: There are two entry points for the Dells Walking Trail. Each entry point offers a parking area.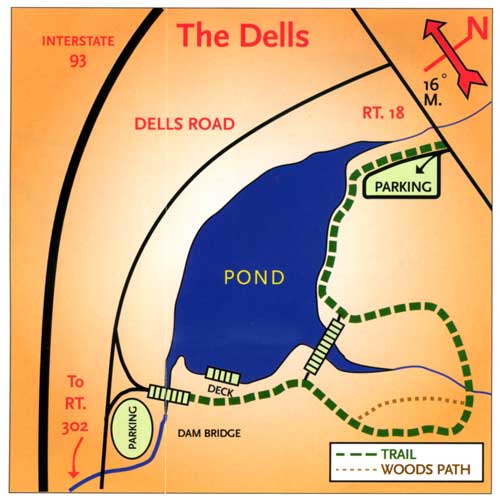 Click here for a printable map of the Dells Nature Trail in Littleton New Hampshire
Reminder: Bring plenty of insect / tick repellent. You'll have much more fun if you are well protected. Although the trails are wide and clear from the wooded surroundings, you will still need this.
Other great hiking & biking trails in Littleton New Hampshire:
Littleton New Hampshire is a  quintessential New England small town with a vibrant downtown area. Littleton's Main Street and surrounding area is filled with several unique shops, eateries, coffee shops, a craft brewery, a beautiful covered bridge, a river walk, a bike path, and more. PLUS, Littleton offers a variety of hiking trails and nature walking paths. When visiting Littleton New Hampshire, stay at Rabbit Hill Inn – just 12 minutes away from downtown Littleton New Hampshire.