10 Exciting Ways To See Fall Foliage in Vermont and New Hampshire.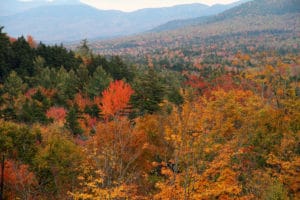 New England fall foliage is amazing! We kick off our Vermont leaf-peeping season in mid-September. And if the weather cooperates, it lasts through the mid- October.
Travelers come from around the globe to capture the best Vermont and New Hampshire fall foliage. Yes, we have wonderful fall foliage driving tours designed to guide our guests to the best viewing locations. But you don't just have to see the incredible fall colors from a car window! There are many new, fun, and more adventurous ways to see the glorious Vermont fall colors while staying at  Rabbit Hill Inn. So we present to you our "Most Exciting Ways to see the New England Fall Foliage. Do NOT forget your camera – these fun fall foliage adventures are fantastic!
TOP 10 BEST WAYS TO SEE FALL FOLIAGE COLORS in Vermont & New Hampshire.
10. Hike to the colorful peaks – Capture the fall foliage colors while hiking the best trails of Northern Vermont and the White Mountains of New Hampshire.  From mild hikes to extreme treks – we'll match you up with the perfect trail.
9. Bike the Kingdom Trails –  Imagine yourself on a mountain biking adventure on "one of the TOP biking trail systems in the world"  during the vibrant fall foliage season. Then explore the charm and panoramic fall colors that wrap around Burke Vermont.  Watch this video, and you'll see what we're talking about!
8. Aerial Tramway to the top of Cannon Mountain – A great ride to the top of Cannon Mountain. Terrific walking, hiking, or just chilling out up there while staring at the intensely vivid fall foliage of the White Mountains from above.
7. Kayaking along the Lazy River –  Vermont foliage kayak trip. We can tell you how awesome this is, better yet… watch this and see for yourself.
6. Vermont Leaf Peeping on horseback – Whether you are experienced or a first time rider, D-N-D Stables will match you will the perfect horse and guide you to fantastic Vermont fall foliage viewing trails.
5. Take the Mt Washington Auto Road or Cog Railway to summit of Mount Washington –  Imagine looking down on the magnificent fall foliage colors from the highest peak in the Northeastern U.S. at 6,288 ft. What a view!!!
4. Guided ATV tour – You'll enjoy BIG fun riding your ATV along 150 miles of colorful back road trails you could never access by car.  Your guide from NEK Adventures will lead you to the best viewing areas for Vermont leaf peeping and wildlife viewing. This back country adventure is terrific in the fall!
3. Take a Helicopter Tour with White Mountain Helicopter ! – See it ALL in one spectacular & exciting trip! A outstanding, fun, and memorable way to soak in the fall foliage beauty from a bird's eye view.
2. The SkyRider Zipline at Alpine Adventure – This is EXTREME leaf peeping! A fantastic, adrenaline pumping, invigorating, and totally awesome way to see the fall foliage in the White Mountains. Trust us, you don't want to miss this!
1. Vermont Hot Air Balloon – Ultimate Leaf peeping!! You will long remember this wonderfully peaceful experience.  No Vermont fall foliage vacation experience can compare to this. You will be blown away…literally. 🙂