Asparagus Cheddar Quiche Recipe from Rabbit Hill Inn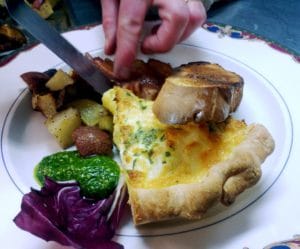 This asparagus cheddar quiche recipe yields one 8″ pie pan size quiche. Guests are always asking for our quiche recipe – especially the quiche crust recipe. Chef Phyllis is gladly adding her vegetable cheddar quiche and quiche crust recipe to the online Rabbit Hill Inn Recipe Files. Remember, quiche is extremely versatile. Combine any vegetables or cheeses – just about anything goes. Be sure to pre-cook your vegetables before adding to the mixture.
Now it's your turn to be creative. Try this great Rabbit Hill Inn quiche recipe.  We hope that the delicious, luring aroma coming from your kitchen brings you fond memories of your time at Rabbit Hill Inn.
Side notes: Quiche dough freezes well. You can make the dough or quiche shells in advance and always have a few on hand. Be sure to check out all the other great recipes in the Rabbit Hill Inn Recipe files.
Ingredients for quiche crust:
4 cups all purpose flour
2 oz shortening
1 large egg
1/2 cup water
4 oz butter (we prefer unsalted)
1 tsp salt
1/4 cup sugar
Method for quiche crust recipe:    
Mix sugar, salt, and butter – blend well.
Add shortening, egg, flour. Slowly add water as you mix.
Roll out dough into 8″ pie pan.
Ingredients for vegetable cheddar quiche filling:
8 large eggs (gently whisk in bowl)
3/4 cup heavy cream (or sour cream)
1.5 cups cooked, chopped asparagus (or any vegetable of your choice)
1.5 cups shredded cheddar cheese
Salt, pepper, seasoning to taste
Method for quiche:    
Put shredded cheese in the pie shell
Layer the asparagus (or other vegetable) on top
Pour egg mixture over filling
Bake for 1  to 1.5 hours at 350 degrees.
BONUS: Check out our online recipe files for more terrific recipes from the Rabbit Hill Inn kitchen. Use the search box for specific interests.