Rabbit Hill Inn Wild Mushroom and Fig Stuffed Apple Recipe.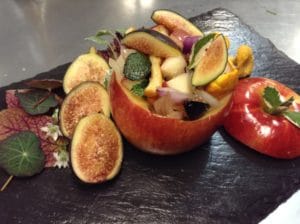 This hearty Mushroom and Fig Stuffed Apples Recipe a delicious side dish recipe is a perfect accompaniment to any entree. And a terrific way to use up those extra apples. This stuffed apple recipe would be a terrific addition to your holiday menu.
Chef notes: This recipe is gluten free. It can be vegetarian friendly if you use vegetable stock. If you wish or a more firm apple & stuffing, reduce baking time to desired consistency.
Ingredients:  Recipe yields 6 servings/apples
4 Tbls Butter                                         1 cup minced onion
2 cups sliced, mixed wild mushrooms     ¾ Tbls minced garlic
4 roughly chopped fresh figs                  2 Tbls minced fresh sage
¼ cup chopped chestnuts                      ½ tsp salt
3 oz stock (canned or homemade)          6 of your favorite apples
Method:    Set oven to 275 degrees
Heat butter in a saucepan. Add onion and garlic and sauté for 5 minutes.  Add mushrooms and sage and continue cooking until mushrooms are soft.  Add chestnuts, salt, and stock and allow to simmer for 10 minutes.  Remove from heat and set aside to cool.
Core the apples. Using a paring knife, expand the opening enough to hold the filling.
Put a small amount of water in a baking dish and place the apples in the dish for blanching.
Put the baking dish of apples in a 275°F oven until the apples just begin to soften but are still firm.  Remove from the oven to cool.
Stuff the apples generously with the filling.
Increase oven temp to  325°F.  Reheat in a steamer or for 5-6 minutes in a 325°F oven .
BONUS: Check out our online recipe files for more terrific recipes from the Rabbit Hill Inn kitchen. Use the search box for specific interests.