Rabbit Hill Inn S'more Brownie Recipe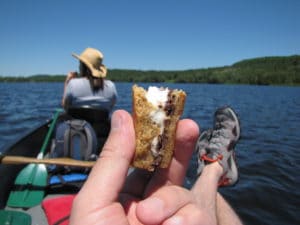 This S'mores brownie bar recipe is insanely good (and addictive). They are delicious at room temperature. or you can warm them slightly for a more gooey s'mores treat. Consider using them in a s'mores brownie ice cream Sundae. No picnic or outside adventure should be without these delicious snack treats. They are always included in our hearty Rabbit Hill Inn picnics!
Warning: Make double batches – they will disappear before your eyes! Remember, they freeze well.
Preparation Note:
Have parchment paper, cooking spray, half sheet pan, and rolling pin on hand.
Ingredients:
1 cup unsalted butter, softened
2/3 cup brown sugar
3/4 cup white sugar
1/2 tsp vanilla
4 eggs
3 cups flour
2 cups graham cracker crumbs
2 tsp baking powder
1 tsp salt
3 cups chocolate chips
3 cups mini marshmallows
Method:  Pre-heat oven to 350 degrees

In large bowl, cream together butter and both sugars until fluffy (5 mins). Add vanilla and eggs. Cream another minute.
In a separate medium bowl, mix together flour, graham crumbs, baking powder, and salt. Add this mixture to the above creamed mixture.
Divide mixture in half. Spread one half on a sheet of greased parchment paper to match size of your half sheet pan. Use roller for even distribution. Top with another greased parchment.  Refrigerate for one hour.
Spread remaining mixture in greased and parchment lined half sheet pan. Layer chocolate chips, then marshmallows. Take chilled layer of mixture, peel off one layer of parchment and place on marshmallows. Remove final layer of parchment.
Bake at 350 degrees for 25 – 30 minutes.  Cool and cut into desired size.
Side note: Baked brownies freeze very well.
BONUS: Check out our online recipe files for more terrific recipes from the Rabbit Hill Inn kitchen. Use the search box for specific interests.