Rabbit Hill Inn recipe for Frozen Maple Mousse
Let's face it, anything with real maple syrup is delicious. So this Frozen Maple Mousse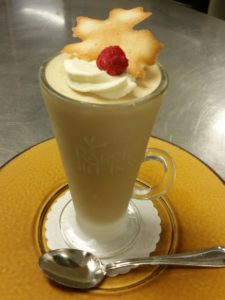 dessert recipe will take your love for maple to a whole new level. Are you ready to "wow" your lucky friends and family with this incredible frozen dessert? Well, get ready for a standing ovation. This easy make ahead maple dessert recipe will blow them away. Only 6 ingredients needed.
Preparation Note:
You will need a mixer and 8 6oz individual serving bowls or glasses. 
Ingredients for the Frozen Maple Mousse:
4 large eggs at room temperature
1 1/3 cup REAL maple syrup (we prefer grade B dark)
2 cups heavy cream
1/2 tsp salt
1 tsp vanilla extract
1 tsp maple extract
Method for Frozen Maple Mousse:

Whip heavy cream, both extracts, and salt together just until whipped (soft peaks). Transfer to a bowl & set in refrigerator.
Pour maple syrup into small pan.
Place eggs in the mixer and whip until fluffy and yellow.
While whipping eggs, bring maple syrup to a boiling point. Then remove from heat and slowly add syrup into eggs while whipping on medium speed.
After all the syrup is in the mixer, slowly turn to high speed and mix until mixture has cooled.
Fold whipped cream into the egg / syrup mixture. Then spoon into the individual serving dishes.
Put in freezer for about 2 hours.
When ready to serve, top with whipped cream & berries.
Jazz it up a little – consider a little crunchy addition on top, such as maple candied walnuts, crumbled maple cookies, or whatever you desire.
BONUS: Check out our online recipe files for more terrific recipes from the Rabbit Hill Inn kitchen. Use the search box for specific interests.