Rabbit Hill Inn recipe for Warm Chocolate Banana Bourbon Pudding Cake with Maple Bourbon Syrup.
Close your eyes and imagine the combined goodness of chocolate, banana, maple, and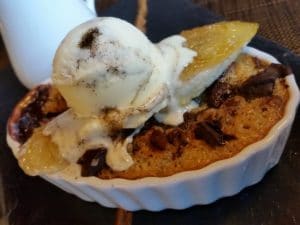 bourbon.  Now, imagine it all in a warm, delicious pudding cake. Are you ready to try this off-the-charts incredible dessert recipe? Well, let's get to it. We begin with the recipe for the Maple Bourbon syrup. Then the pudding cake.
By the way, the Maple Bourbon Syrup recipe can be an awesome addition to so many other dishes (not to mention just on ice cream). Drizzle it on your pancakes & waffles. How about a teaspoon in your evening coffee for a special treat?
Preparation Note:
8 or 9  6oz ramekins or one medium casserole dish.  Preheat oven to 375 degrees.
Ingredients for the Maple Bourbon Syrup:
1 cup Vermont maple syrup
3/4 cup water
3/4 cup brown sugar
3 Tbsp Bourbon
Method for Maple Bourbon Syrup:
In a medium sauce pan, blend maple syrup, water, and brown sugar and bring to a boil. Then remove from heat and add bourbon.  Let syrup cool down to warm. Set aside for later use.
Ingredients for the Chocolate Banana Bourbon Pudding Cake:
1/2 cup melted butter
3/4 cup sugar
1 1/2 over ripe bananas
2 eggs
1 1/2 cups whole milk
1 1/2 cups flour
1 1/2 Tbsp baking powder
3/4 cup chocolate (cut in small chunks)
1/2 cup chopped nuts (any kind that you desire)
Method for Cake:

In large bowl, mix together butter, sugar, and bananas. When smooth, add eggs and milk.
In a separate bowl, sift together flour and baking powder.
Add flour & baking powder blend into wet mixture to form a loose batter.
Butter the bottom and sides of your serving vessels (ramekins or casserole dish).
Pour in batter half way up the dish.
Pour the warm Maple Bourbon Syrup on top of the batter.
Sprinkle top with chocolate chunks and nuts
Bake at 375 degrees for 20 minutes (or until set)
Serve warm with ice cream and a drizzle of warm maple syrup
BONUS: Check out our online recipe files for more terrific recipes from the Rabbit Hill Inn kitchen. Use the search box for specific interests.