Rabbit Hill Inn makes the list of "America's Best Bed and Breakfasts in America" by Food & Wine online magazine.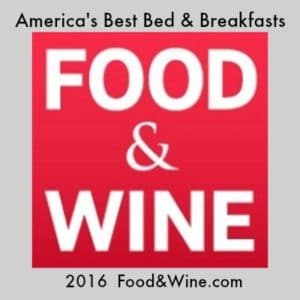 Writer, Alessandra Bulow reports that "America's B&Bs are beautiful homes with modern amenities and fantastic, often homegrown food."  Thanks Alesandra! You are right on the money. The old perceptions that inns are filled with creepy doll collections, lumpy antique sofas, and doilies are LONG GONE. Many of today's B&Bs are upscale, luxurious, high service, and offer amazing food – all for an affordable rate. Rabbit Hill Inn is a perfect example of a luxurious, romantic, modern getaway destination. As a bonus, guests enjoy the convenience of the onsite pub with full bar & local craft beers on tap and a Four Diamond rated farm to table restaurant serving exciting, seasonal & locally sourced cuisine.
Thank you Food & Wine Magazine for listing Rabbit Hill Inn as one of America's Best Bed and Breakfasts! We look forward to hosting and "wowing" your readership when they come to us.