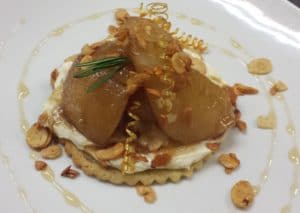 This delicious basic shortbread cookie recipe is so versatile. Although this recipe features Rosemary shortbread, you can change it up in hundreds of ways. Recently, we featured this shortbread in a delicious dessert – Maple Seared Caramelized Pears – Rosemary shortbread, mascarpone, almonds, and vanilla.
Rosemary Shortbread Recipe 
Recipe yield varies on preference of size
Have parchment paper, blender, and mixer on hand
Ingredients:
1/3 cup unsalted butter, softened
2/3 cup sugar
2 egg yolks
1.6 cups all purpose flour
2 tsp baking powder
1 tsp salt
2 sprigs fresh rosemary
Step one: Make Rosemary Sugar in blender
Remove rosemary from stems. In blender, place sugar and rosemary. Blend & set aside.
Step two:
Cream butter and rosemary sugar in mixer on medium speed until fluffy. Scrape sides of bowl, add yolks and mix on high speed for one minute.
Step three:
In large bowl, sift dry ingredients. Add to mixer on low speed until all flour is incorporated.
Step four:
Between two sheets of parchment paper, roll out dough to 1/4″ thick. Chill till firm (2 hrs to overnight).
Step five:
Pre-heat oven to 350 degrees. Take out dough. When dough is pliable, on a floured surface, cut into desired shapes or cut into squares. Place cut out cookies onto parchment lined baking sheet. If you wish, you can also bake the cookie as one large flat piece.  Bake for 6 to 8 minutes until lightly golden. Cool on rack
Please note: These shortbread cookies are fragile. Carefully store them between layers of parchment in a covered tin or freeze until needed.  Enjoy the cookie goodness!