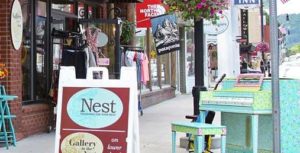 Feb 2015 & July 2015. Congratulations to our neighboring town – Littleton New Hampshire. Two major travel magazines rate Littleton New Hampshire as a BEST Main Street in America! Fodor's Travel and Travel + Leisure listed the greatest Main Streets in America. Littleton New Hampshire makes the winning list, yet again! This fun-filled small town Main Street is less than 15 minutes from Rabbit Hill Inn. It's packed with wonderful shops & boutiques, coffee shops, restaurants, a fantastic craft beer brew pub and warm & friendly people. Come and spend the day in Littleton. Our custom Littleton guide sheet will help you discover it all, making sure that you don't miss a thing. You'll have tons of fun visiting Saranac Antiques, Just L, The Nest, Art To Go, Chutters, Jackson Corner, Bella Funk, BadAss Outdoors, Pentimento, Northern Lights Music, Emma & Co, – just to name a few. An added bonus, there is NO sales tax!!
As for eating & drinking, you'll have a tough time choosing between Chang Thai Cafe, Bailiwicks, The French Sisters, Millers Cafe, the Littleton Diner, and several others. And it goes without saying that all beer lovers MUST make their way to Schilling Beer Co. They brew fantastic beer & offer great food from a wood fired brick oven.
On top of all that, there is terrific movie theater – the Jax Cinema, Intimate in size, comfy seating and above all, great ticket prices! Unlike those steep city prices, you can see a first run movie for $7.00!! Matinees are $5.00. Even the snacks are cheaper,
We totally agree with Travel + Leisure, Littleton New Hampshire is definitely one of the greatest Main Streets in America. We are thrilled to be just a few minutes away. Before you go, be sure to take a copy of our Littleton guide sheet with you. We don't want you to miss a thing.