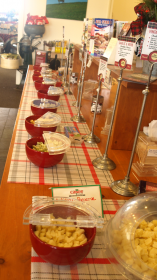 You don't have to spend money to have summer fun.  There are plenty of summer things to do that don't cost a dime.  Here are the TOP TEN FREE summer activities not to miss during your Rabbit Hill Inn getaway this summer.
10.  Tour the interesting small towns & villages nearby. Check out the shops, antiques, & uniques that each town offers.  Littleton, St Johnsbury, Woodstock, Stowe, Hanover, and many others.
9.  Tour the covered bridges ~ These amazing structures are a unique feature of Vermont landscape and history. There are more covered bridges per square mile in Vermont than any other place in the world, with 107 authentic covered bridges located throughout the state. In nearby, New Hampshire, there are several others.  Take a peek at our nearby covered bridges.
8. The White Mountain 100 Mile Scenic Drive ~  New England's most scenic 100 miles! You will see it all on this trip – The Kancamangus Scenic Byway, Crawford Notch, Franconia Notch State Park, Mount Washington, Bretton Woods and North Conway.
7. Tour the waterfalls ~ We are blessed to be surrounded by several stunning waterfall areas. Here are just a few of many that our guests explore while here.
6. Biking ~ Pedal along scenic country roads, dirt trails, or bike paths of Vermont's beautiful Northeast Kingdom & White Mountains of New Hampshire. Take a full day trip or just cycle for a few hours. Varied terrain includes routes through valleys, along ridges, over mountains, through quaint towns and villages, across covered bridges on both paved and unpaved roads.
5. Wildlife watching ~  See bald eagles, hawks, peregrine falcons, osprey, loon, blue heron, variety of owls, woodpeckers and hundreds of others. The big guys are out there too – moose, black bear, white-tail deer and much more. Easy drives will take you to through the Northern Connecticut River Watershed, White Mountains National Forest, the Northeast Kingdom's famous "Moose Alley", and several wildlife sanctuaries. We'll get you to all the hot spots.
4. Hiking ~ There is a lifetime of hiking adventures awaiting you here. Don your hiking shoes, grab the camera, and hit the trails. Discover breathtaking mountain views and summits, scenic outlooks, waterfalls, amazing wildlife, pure unspoiled countryside and forested land. Here are just a few of our favorites suggestions.
3. Unique Galleries ~ Do not miss out on these two "one of a kind" unique galleries (just 15 minutes away).  St Johnsbury Athenaeum and the  world renown Stephen Huneck Gallery & Dog Chapel at Dog Mountain.
2. Spend the day at the Lake ~ We'll provide the blanket, towels, and directions to any of the wonderful nearby lakes.  You'll find clean beach areas and crystal clear waters. Lake Willoughby is one of our favorites, but there are several to choose from.
1. Take the Tasters Tour ~ This always wins as THE TOP CHOICE freebie activity!  Munch your way through this delicious Northeast Kingdom journey. As you meander through the beautiful rolling hills and farmlands, stop and taste the free samples at the Cabot Cheese Factory, Goodrich Maple Farm, Grandview Winery, Ben & Jerry's, and Cold Hollow Cider Mill (sample the cider AND the donuts), more wine tastings at the Cider Mill, Green Mountain Coffee, and others. (Download PDF)