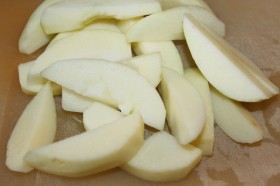 This easy recipe for Warm Brown Sugar Apple Cake is a terrific fall dessert. Serve it with ice cream or a drizzle of caramel. Give it your own spin by adding other nuts, raisins, or whatever you desire.  This apple cake also makes a great snack cake. It will freeze well – so make a few at once. It's a good way to use up those extra apples.
Ingredients:
2 cups apples, peeled and sliced         ½ cup brown sugar
1 ¼ tsp cinnamon                                1-cup sugar
1 cup all purpose flour                        ½ tsp baking powder
1 egg                                                   4 oz unsalted butter, melted
½ cup chopped walnuts (optional)
Method:
Mix sliced apples, brown sugar, and 1 tsp of cinnamon until apple slices are well covered.  Pour into an 8" round baking dish.
In a separate bowl, mix together the remaining ingredients.  When well incorporated, spread evenly over the apples.
Bake at 325° to 350°F for approximately 1 hour or until a knife comes out clean when inserted in the center of the cake.
Serve warm with vanilla ice cream and caramel.