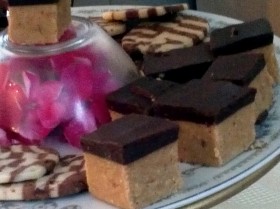 Once again, Pastry Chef, Phyllis, agreed to share another luscious  recipe – Chocolate Peanut Butter Squares.  It's the perfect melt-in-your-mouth treat for those who love with classic chocolate/peanut butter combination.  You will never have to buy another Reeses Peanut Butter Cup again.
This easy NO BAKE dessert recipe  will  bring you tons of applause.  Thankfully, they freeze well.  So you can always make a double batch and have them on hand. Disclaimer: Be aware, they ARE addictive.  They quickly disappear from our Tea Time table.  Try them right now.  Send your comments to us on our FaceBook page.  We'd love to see pictures of YOUR chocolate peanut butter squares (or at least your chocolatey fingers).  Special shout out to Laura T from MA… she LOVES these!
Chocolate Peanut Butter Buckeye Squares
Yield: 9×13 pan  (number of servings depends on preferred cutting size)
Ingredients for Peanut Butter Base:
1 cup Butter
2 cups peanut butter
1 teaspoons vanilla
2 cups graham cracker crumbs
4 cups powdered sugar
Ingredients for Chocolate top coating:
11 ounces semi-sweet chocolate chips
1/2 cup butter
Directions:
1. Line a 9×13 pan with parchment paper
2. Melt 1 cup butter and peanut butter (either over low heat on stove or in microwave), stirring until smooth
3. Mix in vanilla, graham cracker crumbs, and powdered sugar until combined and smooth
4. Pour Peanut Butter mixture into 9×13 pan. Pat down evenly.
5. Melt chocolate chips and butter together
6. Spread chocolate mixture over the peanut butter base
7. Chill for 30 minutes. Cut into desired size. We serve them in 1 inch squares as pictured above.