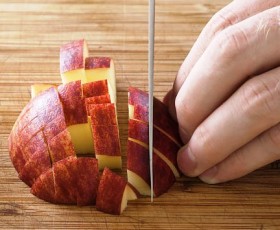 This easy apple cake recipe is a favorite at Rabbit Hill Inn. Apple & Cardamom go together so well.  It has a unique slightly sweet & savory flavor – making it very versatile in the kitchen.   Some describe the flavor as slightly sweet, floral, and spicy.  Use it in baking, deserts, meats, poultry, seafood, and vegetable dishes.
As a bonus… Dr. Oz says that Cardamom is one of the FIVE SPICES TO INVIGORATE HEALTH & ENERGY!  So go forth and cook up a storm with cardamom. And let them eat cake 🙂
Ingredients for Cake:    Yields a 9 x 13 cake
¾ cup sugar                                         3 eggs
1 tsp vanilla                                        1 cup flour
1 Tbsp baking powder                              1 tsp cinnamon
½ tsp cardamom                                   ½ tsp salt
6 oz melted butter                                ¾ cup half + half
1 lb apples, peeled, cored, sliced
Method:
In a mixer, combine sugar, eggs, and vanilla until light and pale yellow in color
Add melted butter, half & half, and apples. Mix until incorporated.
Then add dry ingredients.
Spread into a greased and lined with parchment cake pan.  Bake at 350 degrees for 40-50 minutes  or until cake springs back to touch.If possible, rotating halfway through the baking cycle.
Drizzle with cardamom icing (instructions below).
Ingredients for Cardamom Icing:
1 stick butter                                       2 cups confectioners' sugar
1 tsp cardamom                                    ½ cup half + half
Method:
Combine butter, confectioners' sugar, and cardamom.
Slowly add half + half a little at a time while mixing until your desired consistency is reached
If you make the icing in advance, keep it refrigerated until it is ready to be used. Then remix it in a mixer.  You may need to add a bit more half + half.