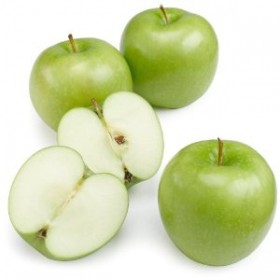 This luscious hot apple soup recipe will become one of your favorites. It's a great way to use up those extra apples. This is a vegetarian and gluten free recipe.
Recipe yields 6 servings.  Blender is needed.
Ingredients:
6 Golden Apples
2 sprigs of Thyme
1 Lemon – zested & juiced. Save both separately.
1 bottle (1 quart) of dry Riesling
Salt and white pepper
Method:
* Peel & core apples. Set cores & peels aside.
* Toss apples in lemon juice and set aside
* In a 2 qt sauce pan, combine peels, cores and Riesling. Simmer until 1/3 of the liquid is reduced.
* Strain the peels & cores, reserve the liquid.
* In the same pan, combine apples, reduced Riesling liquid, lemon zest, and thyme. Simmer until apples are tender.
* Remove thyme sprigs
* Puree in blender, add liquid of choice to reach your desired consistency and flavor. ** some options are: unsweetened apple juice, apple cider, or water**
* Season with Salt & White Pepper
* Strain and serve.  Or cool and store for up to 4 days in refrigerator.
When serving, top with a gentle sprinkle of cinnamon and sugar.